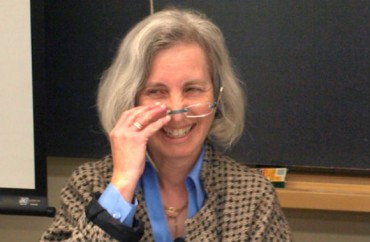 The common sense and resolve shown by several members of Harvard Law School's faculty in responding to hot–button issues – notably fair treatment in campus sexual assault and harassment proceedings – hasn't always been matched by their administrators.
Dean Martha Minow recently addressed graduating students at her alma mater, the University of Michigan, for the school's winter commencement, The Harvard Crimson reported.
Telling students to be "upstanders" – those who intervene when they see injustice – Minow compared apartheid and forced segregation of public schools to … accidentally offending someone:
"Taking even seemingly small acts in one's own school can build the culture that prevents violence, bullying, sexual assault, and racial microaggressions," she said.
Seriously? Dean Minow cites three categories of intentionally threatening language and action and then tags on a phenomenon that, by its very definition, is unknown to those who practice it.
RELATED: California professors instructed not to say 'America is the land of opportunity'
It's like telling students their "seemingly small acts" can prevent a spouse's snoring. They don't know they snore until you tell them.
Minow could have easily rephrased this part of her speech – it doesn't sound off the cuff – to make clear that "racial microaggressions" are far less serious than, you know, beating and raping someone.
For crying out loud, the University of California was telling faculty that saying "America is the land of opportunity" was a microaggression.
Perhaps we shouldn't be surprised that Minow has an unhinged reaction to accidentally offending people. As the Crimson notes, her institution is investigating the placement of black tape on some black law school professors' portraits as a hate crime.
As even one of those "taped" professors wrote in The New York Times, it seems just as likely that the taping was done by black students to protest "the perceived marginalization" of black faculty.
RELATED: Harvard vandalism likely hate-crime hoax, but school's 'racist' seal on chopping block, anyway
But having too little information to make even an educated guess won't stop Minow from turning head-scratching semi-vandalism into an expulsion-worthy offense. (Harvard still hasn't revealed a month later whether it has learned anything from its investigation.)
Or perhaps Minow was tacitly admitting that universities, including Harvard, have turned run-of-the-mill social interactions (like heated disagreement) and regrettable personal choices (like hooking up with a classmate) into offenses worthy of being called "bullying" and "sexual assault."
By seeing everything as impermissible aggression, the American academy might have made these offenses just as insignificant as upsetting someone because they interpreted your words ("where are you from?") in a way you never intended ("you're not a real American").
RELATED: Black Harvard law prof urges students to not invent racism out of thin air
RELATED: Brandeis president gives a primer on how to shut up students without punishing them
RELATED: Student accused of rape sues Cornell for ignoring massive evidence in his favor
Like The College Fix on Facebook / Follow us on Twitter
IMAGE: Harvard Law Record/Flickr