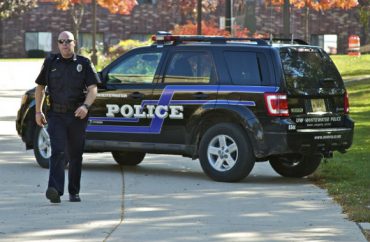 Two of the more radical proposals to come out of our nation's colleges of late are the dismantlement of the country's prisons … and police forces.
Last Thursday, Harvard Law School hosted Alex Vitale, coordinator of the Policing and Social Justice Project at Brooklyn College. He discussed his book "The End of Policing" which examines "alternatives to the police system" and "the dangers of modern policing tactics," according to The Crimson.
Vitale says mental health is "the number one indicator of likelihood" of being shot and killed by police, but funding for cops continues instead of being funneled to mental health and drug treatment. "Improving training, increasing gun control, and 'hiring a few black police chiefs,'" Vitale says, are ineffective in dealing with "harsh drug policies."
In his talk, Vitale acknowledged the impossibility of eradicating all police services at once. However, he maintained that there is a great need for systemic change.

"No one is talking about, 'tomorrow we flip the switch and there are no police,'" he said. "The reality is we have a massive infrastructure of policing and criminalization, and we need strategies to get out of this mess, and those strategies do not include implicit bias training, community policing, body cameras, et cetera." …

In an interview after the event, Law School student Leighton Watson said she feels that serious consideration of the proposal to abolish policing nationwide would first require a clear, agreed-upon definition of what police abolition should practically entail.
According to his faculty page, Vitale has degrees in urban studies, cultural anthropology, and sociology. He worked with the San Francisco Coalition on Homelessness in the early 1990s "defending the civil rights of people living on the streets."
MORE: Brown U. activists discuss eliminating the nation's prisons
MORE: Cal State L.A. prof: Yesterday's 'slave catchers' are today's police officers
IMAGE: UWW ResNET / Flickr.com
Like The College Fix on Facebook / Follow us on Twitter