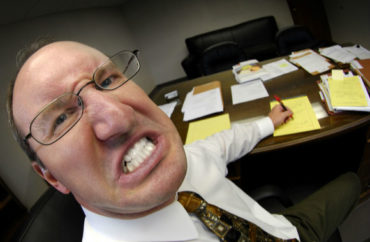 Stop spending taxpayer dollars on 'the evil of private prejudice'
Harvard University really doesn't like being called "evil."
The Ivy League bastion of privilege took offense at a Justice Department filing urging a federal judge not to throw out a racial-discrimination lawsuit against the university before its scheduled Oct. 15 trial date.
The government says it has a "substantial interest" in the case by Students for Fair Admissions, which is representing Asian-American applicants denied admission to Harvard, because it could have a "significant impact" on DOJ's own investigation into Harvard's admissions policy.
The resolution of the SFFA lawsuit could also affect the "interpretation and scope" of the Constitution's Equal Protection Clause, Title VI of the Civil Rights Act and other antidiscrimination laws, department lawyers wrote in a footnote.
The Harvard administration told The Harvard Crimson it "resents" the DOJ filing and said the government was "recycling the same misleading and hollow arguments that prove nothing more than the emptiness of the case against Harvard."
MORE: Economists approve statistical model that finds Harvard discriminates
The Justice Department's language in the filing shows why Harvard might take it personally.
Harvard receives "millions" each year from taxpayers, and it agrees not to discriminate based on "race, color, or national origin" for "every taxpayer dollar that it accepts," the "statement of interest" begins.
It has not met its "demanding burden" to show that considering race in admissions has "not inflict[ed] unlawful racial discrimination on Asian Americans," or shown any "meaningful criteria to cabin its use of race," the filing says.
The department points to the "vague 'personal' rating" that Harvard issues to applicants, which seems to be systemically lower for Asian-American applicants, based on internal documents already released in the SFFA lawsuit.
The government has an interest in protecting taxpayer dollars from serving to "finance the evil of private prejudice," such as that practiced by Harvard in its "unlawful racial balancing," the department wrote.
Its "evil" sentence is quoting a 1989 Supreme Court ruling against a city that limited construction contracts to companies with a certain proportion of minority workers, even though the city had no history of discrimination in contract awards. The National Association of Scholars also cited the Richmond ruling in its friend-of-the-court brief siding with SFFA.
MORE: Harvard officials received training on 'use of race in admissions'
The department gave the federal court four reasons to deny Harvard's motion for summary judgment.
It uses race three times in the admissions process – at the officer, subcommittee and full committee stages – with "no meaningful criteria to cabin" racial considerations and thus no narrow tailoring to "achieve a compelling interest."
When an internal Harvard report highlighted the lower "personal" ratings given across the board to Asian-American applicants – based on "positive personality," "human qualities" and other subjective factors – "Harvard buried it" and prevented further study. This suggests the rating system is "infected with racial bias against Asian Americans."
"Substantial evidence" shows that all levels of Harvard's consideration of applicants engage in the "facially invalid" practice of targeting a "specified percentage of a particular group" because of its race or ethnic origin. The department here is quoting from Justice Lewis Powell's controlling opinion in Bakke, the Supreme Court case that authorized affirmative action in education.
"The result is remarkably stable racial demographics in Harvard's admitted classes from year to year," it wrote. "Such 'racial balancing [is] patently unconstitutional.'"
The department rips into Harvard for never engaging in a "serious, good faith consideration of workable race-neutral alternatives" in 45 years of considering race in admissions:
Harvard attempts to have it both ways. It contends that its voluntary use of race is necessary to capture "the educational benefits of diversity," … but disclaims any ability either to "measure" the "level of racial diversity that Harvard thinks is needed in order to obtain" those benefits or to identify "what form [of] evidence" would justify ending its voluntary use of race. … Such an open-ended use of race is precisely what the Supreme Court foreclosed when it stressed that race-based admissions policies must be "temporary" and rigorously reviewed against race-neutral alternatives.
Read the government's statement of interest and Crimson coverage.
MORE: Bombshell docs reveal Harvard discrimination tactics
IMAGE: Lane V. Erickson/Shutterstock
Like The College Fix on Facebook / Follow us on Twitter