A Harvard-affiliated medical center has postponed a panel discussion on autism after a petition demanded the school "publically [sic] withdraw support" from the event.
According to The Crimson, Beth Israel Deaconess Medical Center decided to hold off on the panel titled "Autism Awareness: Thinking Outside the Box" after the Change.org petition got over 1,400 signatures of a requested 1,500.
"One of the panel's goals is to highlight methods of 'treating' Autism," the petition reads. "This is not only violently ableist but scientifically incorrect. Phrases like 'winning our war against autism infer countless problematic narratives and demonize neurodivergent and Autistic people for simply existing."
The petition goes on to claim phrases such as "how to communicate" and "savant autism" imply an "alien-like nature" to those with the condition.
The Sadhguru Center for a Conscious Planet, part of Harvard Medical School's teaching hospital and host of the event, apologized for "any unintended distress." In a statement, it said "We are pausing, deeply reflecting and learning before we consciously take next steps."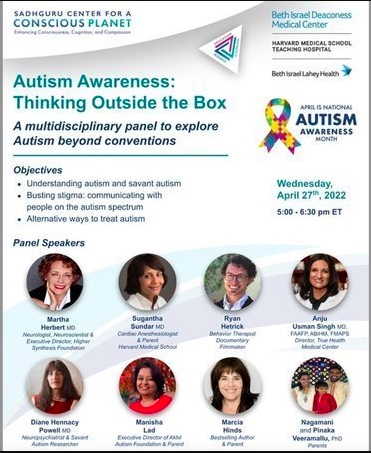 The panel was promptly scrubbed from Eventbrite.com:

MORE: Wisconsin professor with autism placed on leave for refusing to teach with a face mask
Petition creator and Harvard student Kristin King said the event was "problematic from the get-go" due to the panelists' language and the fact there were no featured autistic speakers.
"Talking about things like treating and curing autism is a really toxic narrative," King said. "There isn't anything wrong with being autistic. That's something that autistic people have to say every single day of their lives."
The petition claims the book "I Know You're In There: Winning Our War Against Autism" by event panelist Marcia Hinds is "violent information" and says by supporting it (and its author), Harvard is "signaling that its campus is unsafe for Autistic people."
Hinds said she understands the perspective of the petition and believes having autistic people on the panel would improve it, but she said she stands by the title of her book because it refers to her "personal war" raising an autistic son.

"Every once in a while, on a good day, I would catch a glimpse of the kid he was supposed to be before he slipped away again," she said. "That's the reason for the title, 'I Know You're In There: Winning Our War Against Autism.' Autism was trying to steal my son and I couldn't let that happen. And that's why for me it was a war." …

King wrote in an update to the petition that they met with a representative from the Sadhguru Center on Friday to suggest "education, reparations and public apology."

"I'm hoping that this event came from a place of ignorance rather than malicious intent," King said. "But certainly, with the depth of ignorance that came through in the different layers of problems that existed with the event, it came across really maliciously."
Hinds also offered a response in the Crimson article's comment section, writing in depth about her experience with her autistic son and noting "It is important for people to hear both sides of this issue. Unfortunately, our society has lost the ability to discuss and debate issues on which we disagree."
MORE: The large-scale weaponization of Title IX against students with autism
IMAGES: Voyagerix/Shutterstock.com; Change.org, Eventbrite screencaps
Like The College Fix on Facebook / Follow us on Twitter