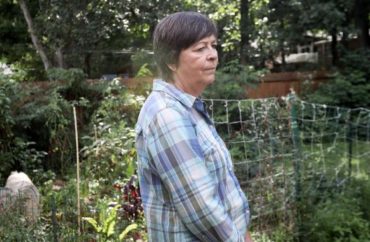 Face masks make her feel claustrophobic and can cause her to hyperventilate.
Edgewood College officials have placed a professor on the autism spectrum on leave because she refuses to teach while wearing a face mask.
The small Catholic university in Madison, Wisconsin denied English Professor Susan Rustick's request to teach online. She has taught at the university for 30 years.
Rustick (right) told The College Fix that she is not sure if she has been officially fired yet, saying it is "a difficult question to answer."
"They say that I haven't been let go, but it is controversial," she told The Fix via Facebook message on September 20. Rustick did not respond to an email on October 5 that asked for an update on her status. The Fix also asked if she had chosen to get vaccinated against COVID.
Her LinkedIn still lists her as a professor at Edgewood College as of October 5.
The College Fix emailed Director of Strategic Communications Ed Taylor on October 5 but did not receive a response. The Fix asked for an update on Rustick's status and for information on how the university generally handles requests for accommodations.
Taylor did not respond to previous requests for comment in the past two weeks.
Rustick told the Wisconsin State Journal that she cannot wear facemasks while teaching because it makes her claustrophobic. "I feel like I am suffocating," Rustick told the local paper about her experiences wearing masks. "It's not uncomfortable; it's intolerable."
The university offered that she could teach behind a plastic barrier, but she said that she found those are not effective and her doctor advised that it would not protect her from coronavirus. A New York Times article from August interviewed a number of engineering experts, many of whom said that plastic barriers can make a room more dangerous by slowing down air flow.
Rustick offered to teach classes online with a teaching assistant helping her classes in-person. However, the university refused this, calling it an "undue burden."
"You rejected this alternative accommodation," a university official wrote to Rustick on August 17, according to the State Journal. "Because you and we have not been able to identify any other options, Edgewood will excuse you from all obligations under your appointment letter and considers it to be null and void."
Rustick told the local paper that she is not sure if she still has health insurance and other benefits.
"They say it's not a termination. But it is. I'm being dismissed," she said.
The federal American with Disabilities Act requires employers to provide accommodations that enable "a qualified individual with a disability to perform the essential functions of a job" and "mak[e] it possible for an employee with a disability to enjoy equal benefits and privileges of employment," according to the Department of Labor.
MORE: University coronavirus plans leave students with disabilities behind
IMAGE: Wisconsin State Journal
Like The College Fix on Facebook / Follow us on Twitter