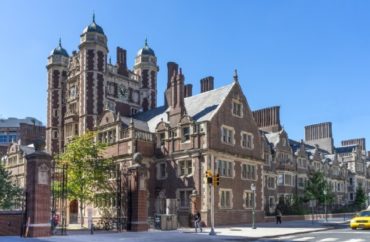 Harvard University and the University of Pennsylvania are facing fierce backlash from wealthy donors disgruntled by how the schools responded to Hamas' slaughter and kidnapping of Israeli civilians.
A storm of criticism hit Harvard after university President Claudine Gay's initial statement condemned neither the Hamas terrorist attacks nor an anti-Israel statement signed by dozens of student organizations.
Following the Hamas invasion on Oct. 7, many Harvard students signed a joint statement holding the Israeli government "entirely responsible for all unfolding violence." The statement justified the invasion by arguing, "For the last two decades, millions of Palestinians in Gaza have been forced to live in an open-air prison."
Billionaire Harvard donor Bill Ackman demanded the school release the names of students involved in the statement so that CEOs would not "inadvertently" hire them.
Yale Professor emeritus Harvey Risch told The College Fix in an email, "Only in some warped bizarre theoretical intellectual universe could someone reason that hate-filled blood lust brutality is explainable by and balanced by political motivations."
Lawrence Summers, a longtime Harvard donor who served as its president from 2001 to 2006, said, "In nearly 50 years of Harvard affiliation, I have never been as disillusioned and alienated as I am today."
Although Harvard later released a statement condemning the Hamas attacks and distancing itself from the students' statement, a billionaire Israeli couple, Idan and Batia Ofer, protested by stepping down from the executive board of Harvard's Kennedy School of Government.
The couple stressed the university's lack of clear support for the people of Israel, adding that their faith in the university's leadership is "broken" and that they "cannot in good faith continue to support Harvard and its committees."
Another billionaire couple, Leslie and Abigail Wexner, said they are disappointed by Harvard's failure to properly denounce the terrorist attacks on Israeli civilians. As a result, the couple has terminated their organization's "financial and programmatic relationship" with the university.
At Penn, affluent donors have been dissatisfied with not only the university's tepid response to the Hamas invasion of Israel, but also the Palestine Writes Literary Festival that was held on campus about two weeks before the invasion.
Jewish groups vehemently denounced the festival, alleging that several speakers had a history of making antisemitic remarks. Clifford Asness, Penn's billionaire alumnus and longtime donor, recently called the festival an "antisemitic Burning Man festival" and withdrew funding from the university.
It was another billionaire donor, Marc Rowan, who first started the donor revolt at Penn. Criticizing the university's leadership for not taking a firmer stance against antisemitism, Rowan has urged other donors to "close their checkbooks" until two top university leaders resign.
"It took less than two weeks to go from the Palestine Writes Literary Festival on Penn's campus to the barbaric slaughter and kidnapping of Israelis," Rowan said in a letter sent to the school's newspaper, the Daily Pennsylvanian.
Other prominent donors soon followed suit, including television producer Dick Wolf and former U.S. diplomat Jon Huntsman. Wolf accused the university leaders of failing to represent the school's ideals and values, and Huntsman called the school "unrecognizable."
In response to the donor revolt, Penn President Liz Magill affirmed the university's condemnation of antisemitism and Hamas' attacks on Israel, while acknowledging that university leaders "should have communicated faster and more broadly about where we stand."
It remains to be seen whether major donors denying funding will have tangible effects in the long run.
Todd Zywicki, a law professor at George Mason University, is doubtful, telling The College Fix via email that Harvard and Penn do not need more money and that donors need elite colleges more than the colleges need them.
Describing many colleges today as "cesspools of hypocrisy, anti-semitism, and anti-free speech attitudes," Zywicki added: "If what these universities have been doing for the past decade wasn't enough to disgust them, do we really believe that this is the straw that will break the camel's back?"
MORE: Academics pledge 'unwavering solidarity with Palestinian resistance'
IMAGE: Eileen 10 / Shutterstock
Like The College Fix on Facebook / Follow us on Twitter