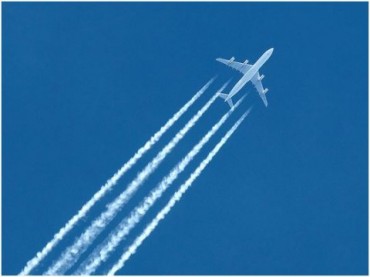 Harvard prof Naomi Oreskes likes to fly. She has to, you see, in order to warn as many people as possible around the globe about our impending doom — by global warming climate change climate disruption. But somehow, she misses the irony:
It's not clear when Oreskes will take her next lengthy flight, but in her lengthy and very impressive curriculum vitae, she outlines with a scholar's specificity her penchant to fly around the globe routinely.

Truly, Oreskes has been an airline's very best friend for years now. With a carbon footprint most climate change deniers could only rub their hands together deviously and dream about, she has spoken in a slew of American cities and at countless prestigious campuses domestically.

Abroad, her important environmental work has taken her on emission-emitting trips far and wide.

Just since June 2008 when then-candidate Barack Obama promised that his presidency would usher in "the moment when the rise of the oceans began to slow and our planet began to heal," Oreskes has visited Norway, Germany, Denmark, New Zealand and Switzerland — just to name a few places. She also took an extensive tour of Australia in 2010 to promote a book she co-wrote, "Merchants of Doubt: How A Handful of Scientists Obscured the Truth on Issues from Tobacco Smoke to Global Warming."
Oreskes told The Guardian that climate deniers "… (have) dismissed the science. They've pooh-poohed the mounting evidence that disruptive climate change is already underway. They've assumed scientists were over-reacting."
Her new book, The Collapse of Western Civilization: A View from the Future, is an historian's account from the year 2393 of the "global collapse caused by global warming."
No word on whether Oreskes' own prodigious carbon footprint gets a mention in the story.
Read the full story at The Daily Caller.
Like The College Fix on Facebook / Follow us on Twitter
IMAGE: Martin Hartland/Flickr