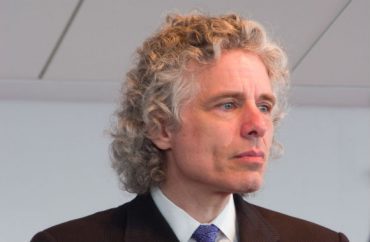 Leading Harvard faculty are concerned that the school is infringing on students' rights not only when they join male- or female-only clubs, but potentially any club that falls out of favor with the administration.
Twelve professors filed a motion against Harvard's pending policy that would block students from fellowships or campus leadership if they belong to so-called final clubs or other groups reserved for men or women only, such as long-unrecognized fraternities and sororities.
The Crimson reports that the motion is "the most vocal faculty opposition to the new sanctions to date."
It's signed by not only former Harvard College Dean Harry Lewis – who has already privately complained to his successor, the final-club foe Rakesh Khurana – but also nationally renowned linguist Steven Pinker, plus "prominent faculty in the Psychology and Computer Science Departments":
Although the motion does not explicitly mention the new policy, Government professor Eric M. Nelson '99, one of the motion's signatories, wrote in an email that "The alarming implications of this new policy extend well beyond the issue of final clubs."
RELATED: Harvard already hit with petition campaign to dump its new rules against single-sex clubs
The resolution says Harvard "shall not" discriminate against students based on which groups they join so long as they aren't "illegal":
This resolution codifies longstanding University practice. Harvard has established nondiscrimination policies for its educational and administrative purposes, but throughout the history of the College a student has been able to be at once a full member of the Harvard community and also a member of other communities with different policies. The Faculty sets standards for student behavior when it votes the Handbook for Students, but students may exercise their civil right to free assembly without fear that Harvard will disadvantage them because they have joined an organization that does not comply with Harvard policies.
The resolution refers back to a 1992 report that said Harvard should not punish students who joined ROTC, but left vague what were the "proper boundaries" for Harvard's nondiscrimination policy:
Recent administrative proposals suggest that there is uncertainty about the limits of Harvard's control over students' lives. We therefore believe that this legislation, based on University precedent, history, and practice, is needed to protect the rights of current and future students — and, indeed, by extension, the rights of current and future faculty and staff.
RELATED: Harvard dean is scapegoating male-only clubs to save his own skin, club leader charges
The resolution is a shot across the bow for the administration, which would need faculty approval to implement the sanctions policy if it requires a change to the student handbook.
Faculty leaders interviewed by the Crimson said they weren't consulted before the school announced the new policy.
RELATED: Harvard's attack on single-sex clubs is wrong and illegal, says expert on fraternity problems
RELATED: Harvard sexual-assault task force recommends nonstop training, eradication of male-only clubs
Like The College Fix on Facebook / Follow us on Twitter
IMAGE: Better Than Bacon/Flickr