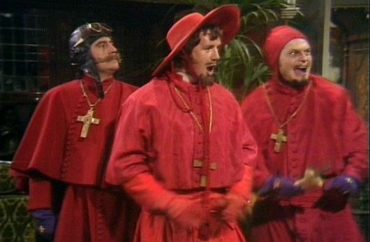 A Harvard professor wants his colleagues to squarely face the fact that the university will soon force students into taking a Spanish Inquisition-type oath, yet faculty themselves are explicitly protected from such an oath.
It looks like they want to keep plugging their ears and hope the issue goes away.
Harvard's alumni magazine, which gets a third of its funding from the university, reports that the Faculty Council has "unanimously decided" it will not consider a resolution by Prof. David Haig that opposes the new sanctions against "unrecognized single-gender social organization" members.
Haig's resolution, which he intends to bring before a faculty meeting April 4, reads:
This faculty does not approve of Harvard College requiring a student to make an oath, pledge or affirmation about whether the student belongs to a particular organization or category of organizations.
Here's the oath that students will be required to swear if they apply for postgraduate fellowships or leadership positions:
I affirm my awareness of the College's policy regarding the principle of non-discrimination, particularly with regard to membership in unrecognized single-gender social organizations. In taking a leadership position in a student organization/applying for a sponsored grant or fellowship/becoming a varsity athletic team captain, I affirm my compliance with that policy.
MORE: Harvard orders students to spy on each other to root out male-only clubs
As the magazine notes, students are swearing they also won't join a single-sex club for a year after their fellowship or award – "as long as a few years after graduation from the College."
The council plans to "refer" the resolution to the Faculty Review Committee, which in theory can overturn or modify the punishments on single-sex club members. Who chairs that committee? Oh, just the sanctions policy's biggest booster, Harvard College Dean Rakesh Khurana.
Harvard's new policy is intended to get rid of male-only spaces such as final clubs; it's even giving female-only clubs a lengthy "bridge" period in which "to operate with gender focused missions" (and it previously hinted it wouldn't enforce gender-neutral rules against women at all).
Yet faculty themselves are not allowed to be quizzed about their own associations, the magazine says, citing the "Guide to Unacceptable Interview Questions" that governs procedures for appointment and promotion.
Specifically, this question is verboten:
Inquiry into an applicant's membership in non-professional organizations (e.g., clubs, lodges, etc.)
In other words:
[A]t the same time that students may not join USGSOs without forfeiting other opportunities, faculty members are prohibited from making inquiries into prospective colleagues' participation in precisely the same kinds of organizations.
Must be nice to be Harvard faculty and never lose a professional opportunity because you like hanging with other dudes.
MORE: Harvard promises special treatment to women-only club
Like The College Fix on Facebook / Follow us on Twitter
IMAGE: Monty Python screenshot