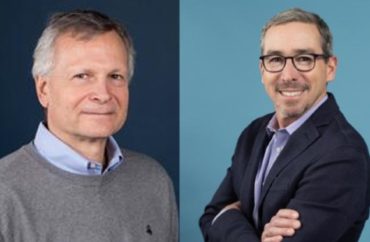 George Soros and Ford Foundation have funded similar projects
A pair of Harvard University professors have received $7.5 million from the Hewlett Foundation for a "Reimagining the Economy Project."
The grant is part of a broader $40 million infusion of cash for MIT, Howard University, Johns Hopkins University and the Santa Fe Institute.
Called "Reimagining Capitalism: Major philanthropies launch effort at leading academic institutions," the money will fund "the establishment of multidisciplinary academic centers dedicated to reimagining the relationships among markets, governments, and people," according to the foundation's news release.
The foundation's grant will assist the studies of Professors Dani Rodrik's (left) and Gordon Hanson's (right).
Neither responded to two emails sent by The College Fix in the past two weeks that asked for their comment on the shortcomings of neoliberalism. The Fix also asked for their definition of economic justice.
Larry Kramer, Hewlett's president, said he wanted the researchers to find "new ideas that can lead to broader economic justice and prosperity for people around the world."
"Neoliberalism's anti-government, free-market fundamentalism is simply not suited for today's economy and society," Kramer said. The money will help find solutions because "what comes next is still not fully developed."
MORE: University leaders call for 'Great Transition'
Hanson and Rodrik's research will "focus on reshaping economic narratives by taking a more active and empirical economic approach to analyzing data from local labor markets."
The nonprofit's announcement, which also highlighted similar efforts by the liberal Ford Foundation and George Soros' Open Society Foundation, said the goal is to "rethink and replace neoliberalism and its assumptions about the relationship between the economy and society."
"Neoliberalism is a particular form of capitalism that has dominated policy debates in the US and much of the world for decades," Heath Wickline, a spokesperson for the Hewlett Foundation, told The College Fix via email.
"Popularized by the economist Milton Friedman, it considers markets the best way of allocating society's resources and mistrusts government intervention in them," Wickline said.
"This work is not about ending capitalism," Wickline said. Instead, he said the goal is to find "a new form of it." He gave the example of the Harvard professors' goal to "better [address] the needs of working people in local communities hit [hard] by deindustrialization."
"Our ultimate goal is the emergence of a new form of capitalism that embodies new thinking about how the economy works and the aims around which it should be organized," Wickline told The Fix, when asked to define what success would mean to the Foundation.
He said finding this new form of capitalism is "something we believe is critical for maintaining popular support for liberal democracy in the US and around the world."
Hewlett-Packard's co-founder William Hewlett and his wife started the foundation.
It has given millions to climate change and abortion causes, including at least $100 million to Planned Parenthood, according to Influence Watch.
MORE: 'White supremacy' and 'racial capitalism' infused in cities, course claims
IMAGES: Harvard University
Like The College Fix on Facebook / Follow us on Twitter