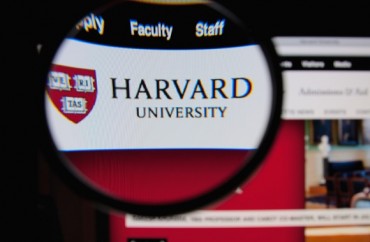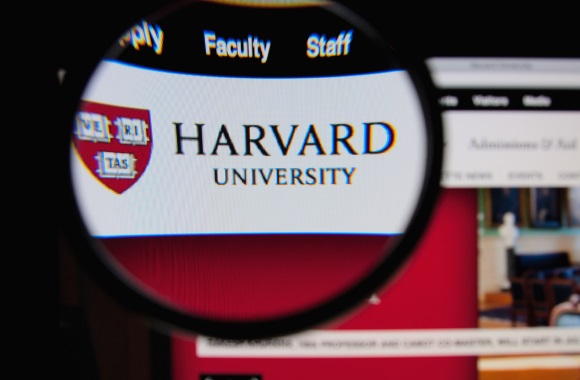 Several Harvard University students were slated to "design and 3D print their own dildo" as part of a student-led Sex Week event hosted at the Ivy League university.
The dildo workshop is one of a half-dozen offerings the Sexual Health Education and Advocacy Throughout Harvard campus group and others are hosting to mark the sex education programming, which launched Friday and is scheduled to conclude today. With that, organizers are dubbing it "Sex Weekender" for short.
The dildo workshop helped kick off the programming on April 12, with the Harvard School of Engineering and Applied Sciences teaming with up organizers to assist, according to the Facebook description of the event.
Space for the event was very limited and according to the Facebook event page it was filled to capacity at eight students, included a waiting list, and took place Friday night. Student organizers did not respond to numerous requests for comment from The College Fix sent over the last several days seeking details.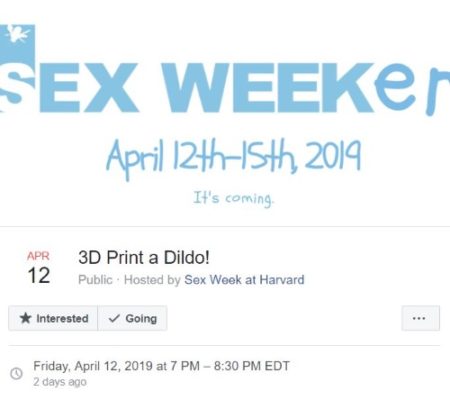 A disclaimer urged students that the "printed designs are not intended for external use." Organizers did not respond to requests for comment asking why, but a 2014 article on Mashable stated that while 3D printing sex toys is becoming more common, there are downsides.
"3D-printed sex toys are particularly dangerous for two reasons: The surface is too rough for immediate use, and microscopic gaps in the toy that are almost impossible to disinfect can store bodily fluid and bacteria," it reported. "Even if you sand down the surface of a 3D-printed toy, it's not totally safe."
The Harvard Sex Week event page for the dildo workshop stated a live feed would be posted on Instagram, but that did not materialize. A student later posted that no video will be uploaded but photos will be published later this week.
Additional workshops slated to take place include: "Religion and Spirituality: Conversations on Sex and BGLTQ Identity," "Sex Positions 101, RUS's Annual Orgasm Seminar," "Am I Allergic to Sex? Pain, Discomfort, and Allergies in the Bedroom," and "From Turn-Ons to Red Flags: Relationships, Sex, and Communication."
Today, we explored the negative messages about our bodies, connection, and pleasure&orgasm at @harvardsexweek.

We also talked about the anatomy of pleasure & the pieces still missing from research and conversation.
Image: Cecilia w/#VoulaTheVulva and the Penis from @iheartguts pic.twitter.com/pdPN7r1Gaa

— Goddess Cecilia 🧜🏻‍♀️💚 (@GoddessCecilia) April 14, 2019
"Sex Week at Harvard strives to empower the Harvard community to explore issues of love, sex, sexuality, gender, and gender identity, and relationships," its website states. "As an annual campus-wide collaborative effort, Sex Week is positioned to actively engage Harvard students in embracing, thinking about, and discussing their experiences with their own sexualities."
MORE: Harvard University hosts anal sex workshop
IMAGE: Gil C. / Shutterstock
Like The College Fix on Facebook / Follow us on Twitter