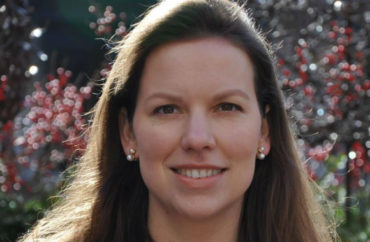 School mum on potential discipline for Theresa Lund 
If there's one thing we've learned about neighborliness in the past month, it's that whites asking nonwhites to keep it down in the neighborhood is a recipe for social and professional ruin.
A senior leader of a program within the Harvard School of Public Health learned this the hard way when she asked a neighbor and her young daughter to leave the vicinity of the building, because the girl's loudness was preventing her own kids from napping.
Theresa Lund, executive director of the Harvard Humanitarian Initiative, went MIA from the initiative's website and even her own LinkedIn page, The Boston Globe reported Monday.
The Harvard Crimson said Monday her social media accounts including Facebook have also disappeared and that she's been subject to the racially coded slurs #SidewalkSusie and #NaptimeNancy.
The disappearance appears to have been short-lived in some respects. Lund's staff page is online as of Tuesday afternoon (third image), though her staff listing is buried halfway down the "core faculty & staff" page (bottom left, second image) – nowhere near the only more senior person than her, Director Michael VanRooyen (first image).
Alyson Laliberte posted video of her encounter with Lund Saturday, which starts with Laliberte accusing Lund of swearing at her. "You heard me wrong," Lund tells Laliberte, and they each accuse the other of "lying." After an awkward silence, Lund addresses Laliberte's biracial daughter off-screen, telling her that her "mommy … is not being very nice."
Laliberte continues speaking at normal volume while Lund continues in a whisper: "You're preventing my children from sleeping. Would you like me to do that to you?"
After Laliberte questions Lund's parenting for leaving her children while arguing with a neighbor, another long silence. Then Lund asks: "Are you one of the affordable units [in the building] or are you one of the Harvard units?"
Laliberte raises her voice to object to Lund's question while the other woman continues in a lowered voice. Her little girl then shrieks. "Which unit do you live in?" Lund asks. She says it's her business because "I don't come outside your window and scream. You're outside mine." The little girl's noises occasionally puncture the silence of the neighborhood.
"Now excuse me while I go tend to my kid, because you're obviously not," Laliberte says as she gets up to retrieve her daughter and the video ends.
Laliberte called her neighbor a "Permit Patty" and wrote that "we weren't being loud at all" in front of the building. "It was totally discriminating and racist" of Lund to ask which part of the building she lived in, "or maybe it was because my daughter is racial who knows [sic]."
Lund sent an email to the Globe apologizing for her "inappropriate and wrong" behavior toward Laliberte and her daughter and said she would be "accountable for my actions in a situation where I fell far short of my values and what I expect of myself."
She added that she shouldn't have addressed the little girl, "and there was no reason for me to ask what type of unit she lives in."
The Crimson cited a similarly worded statement that Lund posted on her personal Facebook page before taking it down completely. Profile pages for Lund do not show up on Facebook, Twitter or LinkedIn as of Tuesday afternoon.
Lund's boss VanRooyen also wrote a tweet he later deleted defending Lund and saying the public portrayal of her does "not represent who she is, or who were [sic] are.#hhi #HHI2018," according to the Crimson.
Media relations staff for the School of Public Health and Harvard University have not responded to a College Fix query Tuesday seeking an explanation of Lund's reported disappearance from the initiative website.
The Fix asked if Lund has been subject to discipline from the university or the initiative for her behavior, whether it violated professional standards or another contract provision, her status at the university, and whether she has received threats.
Read Globe and Crimson reporting and watch the video.
MORE: 'White-informed civility' is academia's latest target
IMAGES: Harvard Humanitarian Initiative
Like The College Fix on Facebook / Follow us on Twitter