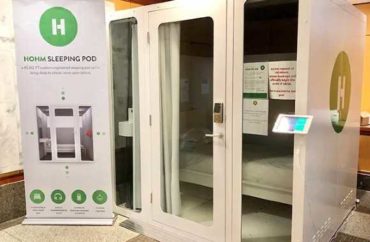 Sleep is important, therefore Harvard students require the best technology to get it on the go
Harvard University students need more sleep, and the school should promote and facilitate their rest with special furniture designed for naps, a Harvard Crimson editorial editor stated in a recent op-ed.
"Our collective lack of sleep shows readily across campus," human evolutionary biology major Alessandro Hammond wrote for the student newspaper. "People nap in chairs, or even on the library floor, to catch much-needed shuteye before they return to the grind."
Lack of sleep is associated with many unfortunate known effects, Hammond said, including increased student athlete injury, decreased attention, impaired cognitive development, and increased risk-taking.
Harvard has responded to the need with a required sleep habits survey and a general education class on sleep, Gen Ed 1038, but that's not enough, Hammond wrote.
Harvard must supply its students with specialized furniture enabling "people to sleep comfortably in any place" for short periods of time, he wrote.
Naps about 20 minutes in length best suit the busy schedule of a Harvard undergraduate, and nap pods are well designed to offer them.
Hammond does consider other solutions: Perhaps Harvard could lift "anti-sleep" rules in study spaces and other common areas. The university could also consider reducing class workloads to allow for more time for slumber, presumably in beds or on other furniture.
However, Harvard students are ambitious, so eliminating classes or schoolwork is unrealistic.
Also, Harvard students deserve to "benefit from the best tools available to help them rest," so nap pods would be necessary even if no-sleep rules in study spaces were lifted, Hammond wrote. Nap pods are "cutting-edge mental health equipment." Ordinary couches don't cut it.
Nap pods also have the advantage of being intended only for sleeping, which would allow the college to "ensure thorough and frequent cleaning between occupants," Hammond said.
Other universities provide superior nap technology
Harvard should look to institutions that have taken more progressive steps towards nap pod provisions, Hammond argued. The University of Akron set up four nap pods in three different study spaces. University of Ohio Cleveland Medical Center partnered with San Diego nap pod maker HOHM to secure two free nap stations.
"HOHM is a custom-engineered, sound-blocking sleep pod designed to safely provide individuals with comfort, privacy, and a place to decompress," according to an October 2020 University Hospitals news release about providing the pods [pictured] to essential hospital workers at the northeast Ohio health system.
"In each 43.5 square-foot pod, HOHM features a comfortable twin-sized bed, a privacy and sound-blocking curtain, charging stations, and a tablet to control reservations."
HOHM standard pods start at $9,900 each, a "limited time offer," according the company website as of Feb. 9. Newly released outdoor pods start at $17,900.
Other nap pod models are available, including the more minimalist MetroNaps Energypod by the company RestWorks. RestWorks requests that would-be nappers fill out a contact form to receive pricing information.
Fortunately, Harvard's nap pod investment need not be exorbitant, because the elite university has a small number of students and a lot of cash to spare, Hammond wrote.
"Though some university administrators may deem nap pods an inefficient use of money, our student body is small enough, and the university's coffers large enough, to make our sweet dreams a reality," he wrote.
MORE: University Swaps Library's Study Tables For $10,000 Napping Pod
IMAGE: University Hospitals
Like The College Fix on Facebook / Follow us on Twitter