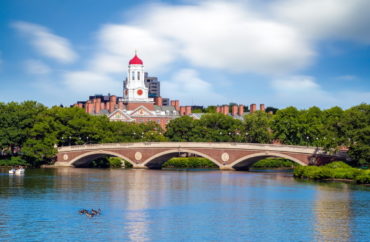 Results of student government election aim to clean house, say newly elected leaders
Harvard University students Michael Cheng and Emmett de Kanter were recently elected president and vice president of the school's Undergraduate Council after running a campaign centered on defunding the student government.
The Undergraduate Council has been a subject of intense scrutiny for many students, with the Harvard Crimson referring to the election's results as a "vote of no confidence" in its leadership.
Cheng was also present for a meeting wherein the council discussed the fact that 60 percent of votes in the Nov. 13 election went to anti-UC candidates, and that an internal poll places its approval rating at 22 percent.
Cheng and Undergraduate Council representatives have yet to respond to The College Fix's requests for comment.
Op-eds by Cheng and de Kanter, published in The Wall Street Journal and Harvard Crimson, respectively, create an illustration of an institution rife with irresponsible financial management, bureaucratic red tape and office politics.
According to Cheng, the UC lost over $100,000 in student-activity funds between 2017 and 2018, which are sourced directly from a fee attached to students' tuitions.
Many groups receiving funding either failed to return unused funds or procure receipts of where the money was being spent. The following fall, the student activities fee was increased by 167 percent.
Cheng also alleged that the UC attempted to sabotage outsider candidates such as himself in the recent election, and, when that failed, restructured the system in an effort to undermine his candidacy.
In the lead-up to Cheng's election, candidates faced disqualification for "arbitrary" reasons, he wrote in his Journal op-ed. He also claimed ballots were distributed with the check box next to his name obscured.
After falsely claiming the issue was corrected and declining to restart the election, the UC reversed its decision amid a deluge of messages from disenfranchised students, Cheng wrote.
Making matters worse, Cheng and de Kanter contend that after they were elected president and vice president, the outgoing members of the student government submitted a bill to make amending the UC's 21,612-word constitution effectively impossible absent a supermajority of council votes.
The UC also approved a similar bill for campus referenda, which will now require the support of two-thirds of voting students to pass so long as turnout rates are upward of 40 percent.
Then, at Cheng's inaugural UC meeting earlier this month, freshman representative Laila Nasher accused him of exploiting her status as a "first-generation, low-income student" as a means of consolidating power.
She alleged Cheng used a request for a meeting to "discuss their 'shared frustrations as FGLI students'" to secure her opposition to the amendment, the Harvard Crimson reports.
Cheng denied the allegations in his inaugural speech.
In his Crimson op-ed, de Kanter also outlined his ticket's plans for reforming the UC, which primarily involves him and Cheng overseeing the rewriting of the UC's constitution to reflect student interests, as well as the dismantlement of the system as it currently stands.
"When Mike and I campaigned under the (admittedly provocative) slogan 'Defund the UC,' we weren't advocating for the end of student activity funding or the end of student government. Rather, we were calling for the establishment of a new student government that more effectively advocates for students, free of the UC's bureaucratic inefficiencies," he wrote.
Moving forward, he wrote that the duo's priority is to organize a constitutional convention composed of Harvard students "who want to build a student government that works."
"The convention's goal is to write a constitution for a new student government to replace the UC. While Mike and I will participate in the Convention as facilitators, decisions will be left to the will of students at the Convention and the final Constitution will be sent to the student body for ratification by referendum," he wrote.
"If our vision for the new government is not seen out through the Convention, so be it; our highest priority is giving Harvard a student government that is more legitimate and effective, and that only happens if students decide what their student government looks like."
The Undergraduate Commission has since elected a new secretary and treasurer, and has passed legislation to launch an independent audit of itself, during which it must "fully cooperate" with Harvard Risk Management and Audit Services.
MORE: Harvard, concerned over visuals that center 'white men,' plans racial justice redesign
IMAGE: F11 Photo / Shutterstock
Like The College Fix on Facebook / Follow us on Twitter