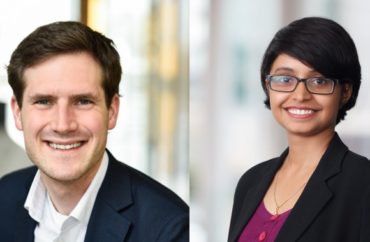 Peers say it could hurt 'sex workers'
A group of Harvard students have written a letter to the president of the credit card company Visa, demanding that it not process payment to porn websites unless safeguards are put in place.
"We are writing to urge Visa to step up its fight against sex trafficking online," the letter to CEO Al Kelly says. It thanked him for distancing Visa from Pornhub, but said other work must be done.
"We applaud Visa's decision to discontinue payments to Pornhub, but the problem is not limited to Pornhub or to Xvideos," the letter, led by Harvard Kennedy School of Government students Ethan Lyle, Chris Musser (pictured) and Pallavi Khare (pictured) said. "The problem is systemic. Criminal sexual abuse is facilitated by many user-generated pornographic sites because they do not systematically or credibly verify the age or consent of the individuals in the videos they distribute and from which they profit."
"By asking payment providers to only partner with organizations that have robust verification mechanisms," Musser told The College Fix, we expect to see a reduction in the easy supply of such videos and hence, lower instances of sex trafficking, child abuse, and non-consensual videos."
He said the petition idea came from a course called Public Narrative. "The purpose of the assignment was to encourage students to connect their personal values to a specific 'ask' that they could make of their fellow students," Musser said.
"Specifically, we ask that you implement a policy that prohibits the use of Visa services for all user-generated pornography websites that do not verify the age and unambiguous consent of all individuals in all content," the letter said, noting that Visa rival Mastercard had undertaken a policy change to that effect.
MORE: This Catholic college has a successful anti-porn program
"Payment providers like Visa can help disrupt market economics for thousands of videos containing horrific content like 'screaming teen', 'degraded teen', 'rape videos', 'less than 18,'" Musser wrote in a LinkedIn post. "It is time to stop monetization of sex crimes and business models that thrive on exploitation, abuse, coercion, and gender inequity."
However, some of their peers at the Ivy League university are not onboard with the activism.
Jessica Van Meir, a doctoral student in the Kennedy School, said the police would be "financial discrimination," according to an article in The Crimson.
The proposed policy would work "against sex workers and force mainstream pornographic websites to shut down, making sex trafficking and child pornography more difficult to 'identify and combat,'" the student paper reported about Van Meir's concerns.
"Implementing policies that force adult websites to shut down will result in greater exploitation and trafficking and will not reduce child sexual abuse material (CSAM) or non-consensual pornography," Van Meir's letter said.
The petition asks Visa to "consider the harms of policies that restrict sex workers' earnings and meet with sex workers' rights organizations before implementing policy changes."
The Fix emailed Van Meir on January 10 to ask about updates to her petition and if she had heard back from Visa. The College Fix did not receive a response.
"We have since received inspirational messages of support, including from survivors," Chris Musser said when asked by The College Fix about Van Meir's opposition. "We appreciate Jessica's engagement and hope to work together with her and other stakeholders on this complex issue going forward."
MORE: Here's how colleges can fight sex trafficking and porn usage
IMAGE: Linkedin
Like The College Fix on Facebook / Follow us on Twitter