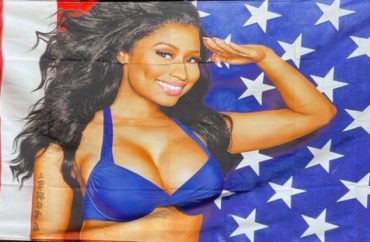 A Harvard University official apparently contacted several students earlier this month requesting they take down an American flag featuring a bikini-clad Nicki Minaj in a salute pose.
According to FIRE, what appears to be a university dean contacted four students about the flag hanging from their dorm window.
"I don't want to censor anyone's political or aesthetic expressions, but I'm concerned that members of the community will find the poster offensive, so I'm wondering if you'd be willing to take it down," the official wrote.
Just what was "offensive" about the image the official did not specify.
The Twitter account @imjustjuice, allegedly a Harvard student, ended up deleting a post about the controversy out of fear "Harvard might do something to jeopardize his spot at the university." "Barbz" refers to fans of Nicki Minaj.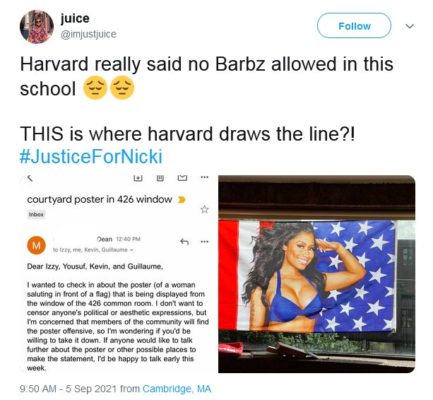 After hearing about @imjustjuice's situation, several Minaj fans showed their support by either hanging Minaj banners from their dorm rooms or indicating they would do just that.
solidarity from the other side of mather!! we stand for the flag ♥️ https://t.co/DCOQ7xDGjS pic.twitter.com/bMTC7uOMrm

— smellie (@0rganicmeme) September 5, 2021
Just bought a Nicki flag for the dorm.#solidarity #JusticeForNicki https://t.co/vvNH3RmCZk pic.twitter.com/8BfoQeh9y1

— Sami Turner (@samiturner_) September 6, 2021
As FIRE points out, although Harvard is a private entity and thus not bound by the First Amendment, its own policies on free speech weigh against the official who contacted @imjustjuice. For example, its "Free Speech Guidelines" introductory statement reads:

Note in particular the "concerns about time, place, and manner" — they "should ordinarily not be interpreted" to thwart non-disruptive expression (emphasis added).
In a September 10 letter to Harvard, FIRE notes @imjustjuice's residence hall also has no specific rules or regulations against hanging a flag like that featuring Minaj.
"We appreciate that the Harvard staff member's email may have been intended as a request, not a directive," FIRE said. "However, a student who receives such an email might reasonably interpret it as a directive. Indeed, the student here read it as an assertion that the display was not 'allowed' at Harvard."
MORE: Canadian Catholic college to hoist rainbow flag for Gay Pride Month
IMAGES: Twitter screencaps; Harvard "Free Speech Guidelines" screencap
Like The College Fix on Facebook / Follow us on Twitter