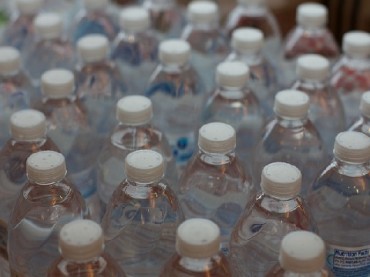 Harvard University students agreed by vote that plastic single-use water bottles should no longer be sold on campus, leaving the fate of plastic water bottles in jeopardy at the Ivy League institution.
While campus administrators cannot be forced to go along with the student vote's outcome, organizers of the ballot measure say they expect cooperation from Harvard officials, who will be lobbied by the student government to comply.
"We will be working with the administration to make sure student wishes are met," Katrina Malakhoff, chairperson of the Harvard Environmental Action Committee, said in an email to The College Fix.
Sixty-four percent of students who voted in Harvard's fall referendum late last month supported "ending the sale and distribution of plastic non-reusable water bottles on campus (including at Harvard cafes and Crimson Catering events) and making drinking water more accessible through the installation of additional water fountains and reusable water bottle filling stations."
Harvard University officials did not respond to phone calls and emails from The College Fix asking if they would support the student referendum's majority vote to end the sale of bottled water on campus.
Malakhoof, in her email, said "now that students have shown their support, we are optimistic that these stations can be installed within the next few months."
Funding for the new water stations will be shouldered by a grant the environmental action committee received, as well as support from the Harvard Office for Sustainability and other campus coffers, Malakhoff said.
Single-use plastic water bottles are the latest environmental trending cause. Critics contend the environment is polluted once to create the plastic bottles, then again when they clog landfills, and further tout tap water as just as good if not better than bottled.
"Single-use plastic water bottles represent one of the most easily obviated threats currently plaguing the environment," The Harvard Crimson student newspaper stated in its editorial in support of the ballot measure. "Ending the sale of bottled water on campus would constitute a step toward addressing this problem and advancing President (Drew) Faust's explicitly stated goal of mitigating the university's environmental impact."
Nearly 47 percent of the university's students voted in the fall referendum, in which most students also agreed to support mixed-gender campus housing and pro-amnesty immigration reform. But those measures passed with more than 80 percent of voting students in agreement.
The water bottle ban, while approved, didn't fare quite as well. There were plenty of detractors.
Student Carson Scott argued in a Crimson op-ed before the vote that there are better ways to get students to stop buying bottled water – through incentives – and suggested imposing a university tax on bottled water, for example.
"An outright ban of water bottles offers easy fodder for conservative pundits bent on opposing the cause of environmentalism, making it easy for such pundits to label proponents of this policy as radicals who are willing to overlook any and all individual freedoms in order to achieve their aims," Scott stated.
In an interview with The College Fix, student Jack Kocsis said in an email he voted against the measure, calling it "overly silly and capricious – banning something that is altogether seen as a salutary beverage – and because it is yet another example of a paternalistic attitude expressed all too often here on this campus."
He went on to note removing bottled water from Harvard-operated areas would drive students to off-campus locations for the product, such as the CVS in Harvard Square, as well as force thirsty students to purchase a less healthy alternative, such as soda.
"The way I see it," he said, "an enactment of this ban would lead to less revenue for the school and less water consumption by the students."
IMAGE: Assorted Items/Flickr
Like The College Fix on Facebook / Follow us on Twitter