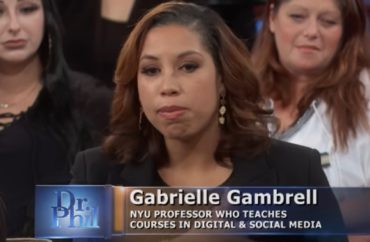 Professor linked deadly shootings in Buffalo to social media
"Hate speech" should be censored on social media according to comments a New York University professor made recently on the "Dr. Phil Show."
Gabrielle Gambrell said there is a "line" between someone being "funny" and someone being "offensive," in response to a comedian's comments in support of freedom of expression. Gambrell is a former media relations director for Barnard College, NBC and CBS, according to her personal website. CBS hosts the "Dr. Phil Show."
Dr. Phil introduced the NYU media studies professor as someone who "says hate speech and inappropriate behavior should be censored on social media, right?"
Gambrell replied that she does and while she is "extremely in favor of the First Amendment," there are some exceptions. She gave an example of the deadly shooting at a Buffalo grocery store in May 2022 to justify her position.
She added further:
We have seen things that happen when social media is not censored. The horrific incident that happened in Buffalo, the individual that shot up the supermarket in Buffalo, New York had tremendous amounts of things on his social media that should have triggered some people saying, 'hey this guy should not have access to legally get a firearm,' so in certain instances where it's harmful in certain instances where it could hurt people where there's negative intent, there should be censorship.
Gambrell went on to say that she celebrates when she sees someone fired for a "viral video" that shows racism or "homophobic" actions or language.
She added:
In some instances where I see viral videos where someone is clearly racist or homophobic or anything nasty and then the video goes viral they lose their job, I'm like' score' because that person does not deserve to have this title which can impact certain communities, they need to work on themselves.
She added that she wants people to work on "redemption," and to "learn," which drew criticism from Robert Shibley, an attorney affiliated with the Foundation for Individual Rights and Expression.
Shibley questioned Gambrell how canceling someone helped, to which the professor replied "excellent point." The segment did not include further comments from the professor.
MORE: Professor wants federal hate crime for Fauci criticism
IMAGE: Dr. Phil Show/YouTube
Like The College Fix on Facebook / Follow us on Twitter