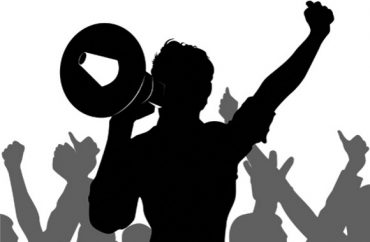 Student activists at Iowa State University are demanding the school's administration take action after a "blackface" incident  was revealed, and several hateful chalkings were discovered around campus.
According to KCRG-9, the chalkings said "Heil Hitler," "no trans rights" and other epithets. On Wednesday, protesters marched to Iowa State's President Wendy Wintersteen's office to "demand change" at the school and in her administration.
The Iowa State Daily reports protesters closed down the town of Ames' Lincoln Way before proceeding to Beardshear Hall, home of Wintersteen's office. Protest organizer Javier Miranda said "Ames depends on the university, but if we obstruct a part of Ames, that isn't just the university, then we're drawing the connection between the two."
He added that protesters "needed to escalate the situation."
Miranda, co-march organizer Alexa Rodriguez, and others claim the ISU administration has not addressed "many controversial events on campus." Rodriguez said that with the "Heil Hitler" chalking "we needed something concrete that the administration could say 'yes' or 'no' to, and get them to take a side."
Because … it's possible that Wintersteen and company would be in favor of the phrase … ?
Rodriguez and Miranda said they were involved in making a list of demands with the main goal of creating a zero tolerance policy toward racism and antisemitism. The list of demands included "Expel the neo-Nazis, Expel the students who vandalized Geoffroy Hall, Fire the advisor who wore blackface, zero tolerance of neo-Nazi threats and ISU Admin[istration] holds an open meeting to all students and campus workers in two weeks." …

The protestors sat in a conference room in Beardshear Hall and waited to meet Wintersteen while chanting and sharing stories as to why this protest was important to them.

"For Wendy this is just another business day, but to us this is personal," said Araceli Lopez-Valdivia, senior in political science.
The noted blackface incident pertains to ISU advisor Alex Krumm who ended up taking down the 2008 Instagram photo of himself in black makeup (which he posted in 2015). The picture's caption read "#throwbacksunday? Mime at Wartburg in 2008? I think was '08 anyway…" and the Daily notes it's from Krumm's participation in a mime production in which "he painted his face a variety of colors, including black" (emphasis added).
Since the photo is eleven years old, The College Fix asked the Daily how it was discovered: Did the paper go looking for it? Did somebody tip them off? No response was received in time for publication.
The Des Moines Register (which fails to point out the age of Krumm's "controversial" photo) notes another bias incident in which an ISU residence hall advisor found a sign in her building where the word "bean" was altered to "beaner." She said she "believe[s] she was targeted because of her race."
Wintersteen sent out an email in response to the protest which stated "I am proud of our students for standing up against bigotry and racism and for exercising their First Amendment rights. I join with them in condemning racism, white supremacy, and xenophobia. … We will continue to work with our students to make sure their voices are heard and they feel supported."
Read the Daily and Register articles.
MORE: ISU student gov. opposes freedom of association b/c it protects Christians
MORE: Iowa State requires applicants agree to 'diversity and inclusion' pledge
IMAGE: Shutterstock.com
Like The College Fix on Facebook / Follow us on Twitter