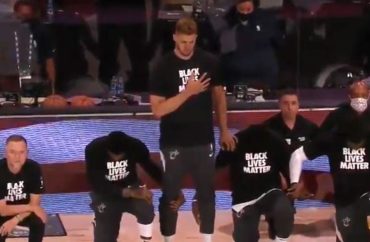 'He's standing by us. He's supporting us. He's with us.'
Meyers Leonard is a name few people recognize. He sounds more like a law firm than an NBA player.
I know his name because the power forward played for my Portland Trailblazers, which drafted him in 2012, until the team traded him to the Miami Heat last year. His numbers won't impress anyone.
But his actions show his integrity, his thoughtfulness and his unwillingness to satisfy himself with virtue signaling – the default setting of the academy – instead of doing good things.
Leonard trended in the news this weekend when he refused to kneel during the national anthem in his team's first game in the restarted NBA season and postseason, which is being played in a COVID-19 "bubble" at Disney World.
He's both white and American – a rare combination in the NBA – so it's easy to assume he's some backwards redneck openly resented by his teammates.
Leonard doesn't have the renown of Spurs coach Gregg Popovich, a U.S. Air Force Academy graduate and vocal Donald Trump critic who stood during the anthem Friday, or the race of Orlando Magic forward Jonathan Isaac, who not only stood but also refused to wear the de rigueur Black Lives Matter shirt during the anthem. (An ordained minister, Isaac explained his decision in gospel terms. It didn't protect him from media mockery when he suffered a season-ending injury.)
Yet Leonard's decision wasn't some off-the-cuff ploy to draw right-wing adulation, as he made clear to the Associated Press. It was a reflection of his family and social circle, and the decision cost him several nights of sleep:
Meyers Leonard has a brother who served two tours in Afghanistan with the U.S. Marines. He carries a military-themed backpack, wears combat boots and has a phone loaded with Navy SEALs who are his friends.

He also makes this clear: "I absolutely believe Black Lives Matter," he said. …

"Some of the conversations I've had over the past three days, quite literally, have been the most difficult," Leonard told The Associated Press prior to the game. "I am with the Black Lives Matter movement and I love and support the military and my brother and the people who have fought to defend our rights in this country."
Rather than try to appease the vindictive Twitter mob, which takes its cues from the vindictive academic field, with a useless groupthink gesture, Leonard used his financial privilege to demonstrate tangibly that #BlackLivesMatter. A videogame streamer on Twitch, he raised $180,000 in April for causes such as Feeding South Florida.
Leonard then announced Saturday he was personally donating $100,000 "to a fund that helps pay the fees Floridians leaving jails or prisons must settle before they can have their voting rights restored":
"Because I've listened to [Heat captain] Udonis [Haslem] and am constantly inspired by him, every single one of those dollars will go to Overtown and Liberty City, where he grew up," Leonard said, referring to two of Miami's historic Black neighborhoods. "Those two parts of Miami were most heavily impacted by COVID-19 and voter suppression."
It's hard to overstate how much harm is caused by conditioning civic rights on paying the crippling fees associated with going through the justice system. You could even call it systemic racism, since the burden disproportionately falls on black and brown populations.
As Prison Fellowship explains: "The denial of voting rights to people who have completed their sentence of incarceration" and pose little public safety risk "has imposed second class citizenship on millions of our family members, church members, and neighbors in America."
Leonard rejects the "line in the sand" mentality – "If you're not kneeling, you're not with us" – that has come to define America this year amid racial protests. He told the AP that he explained why he wouldn't kneel to both current and former teammates before the game.
He won over Haslem, his team captain, who was "the first to tap fists with Leonard" after the anthem. Haslem said: "People will question, 'Why isn't he doing it their way?' Well, he's standing by us. He's supporting us. He's with us."
Teammate Andre Igoudala, a member of the National Basketball Players Association's executive committee, also said he had to "see things from [Leonard's] perspective" if he wants Leonard to see the issue from Igoudala's perspective.
I wish more people would consider the perspective of those who see the anthem as a reflection of the sacrifices made to protect America from a hostile world. Unfortunately, today's NBA – like today's academy – enforces political orthodoxy with the zeal (and hypocrisy) of a cult.
MORE: Cheerleader briefly kept off field for anthem kneeling gets $145K settlement
IMAGE: Heart & Sole Videos/YouTube
Like The College Fix on Facebook / Follow us on Twitter