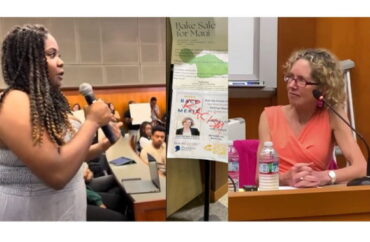 'We are going to self destruct as a civilization unless we are willing to speak the truth about the real reason for racial disparities'
Iconoclast Heather Mac Donald is not shy about sharing her opinion, and never has that been more apparent than at recent talk at UC Berkeley School of Law, during which the bestselling author staunchly defended the themes in her recent book "When Race Trumps Merit."
Mac Donald's visit, hosted by the Federalist Society, prompted a protest consisting of about two dozen students in the audience who held signs such as "Black Lives Matter" and "Equity is beautiful" and asked pointed questions, including from one student who said he felt "assaulted" by her arguments.
"I just want to tell you right now that your book is racist, your arguments are racist. They are based in eugenics. They are based on ideas that black people and brown people can never compete with white and Asian counterparts," one law student said during the Q&A, asking why anyone should take her work seriously when all she does is "peddle racist drivel."
But Mac Donald appeared unmoved by the accusation as she repeated a statement she presented in various ways throughout her one-hour talk at Berkeley Law: "Standards are not racist."
"If I believe that blacks can never compete, I would say, yeah, we've got to lower standards, because that's the only hope for getting diverse institutions. In fact, I believe that if we held … high expectations that blacks would successfully compete," Mac Donald said.
It was one heated exchange among several during the Sept. 5 event.
Several flyers advertising her appearance were vandalized with the word "racist" scribbled in bold red lettering. At one point Mac Donald invoked the term "black privilege," causing the room to erupt in outrage.
In an interview Thursday with The College Fix, Mac Donald said she refuses to mince words.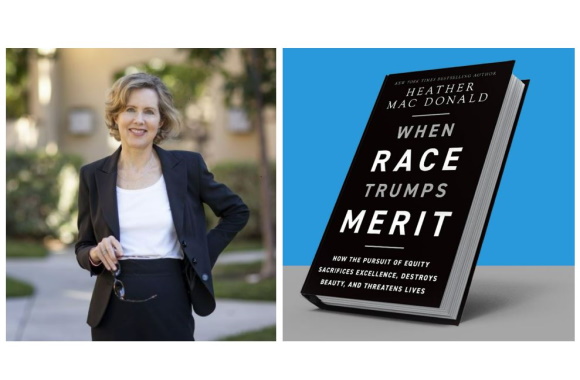 "Somebody has got to get out in front of this and say, 'We are not going to continue to tear down Western Civilization.' Standards are not racist," she said. "If they have a disparate impact, the problem is not with the standards, it's with the skills gap or the behavior gap in the case of crime. And I don't see conservatives even willing to say that right now."
As The College Fix previously reported, Mac Donald's latest book spells out how America is committing civilizational suicide.
The constant mantra that racism defines America and is deeply embedded in all of the nation's institutions is leading to policies and practices that are slowly destroying the country from within, argued Mac Donald, who is on The College Fix's advisory board.
While Mac Donald acknowledged a few times in her talk that there were atrocities committed in the past by white Americans, she said the argument pushed today that anything bad that happens to a black person is the result of white supremacy is false.
"The empirical evidence now is the opposite of that," she said during her Berkeley talk, prompting murmurs from the audience.
"I don't know … a single institution that is not engaged in the use of massive racial preferences," she said, adding "we have reached a point of absurdity" when white supremacy is blamed for five black police officers in Memphis beating a black suspect to death.
It's not a theoretical problem either — lives are at stake, she argued. STEM curriculums are being dumbed down in the name of equity, and instead of meritocratic efforts to find a cure for Parkinson's, premature dementia, or Alzheimer's disease, criteria for receiving research grants are based on diversity tropes, she said.
"We are going to put lives at risk," she said, "because I don't want a doctor coming through that emergency room door, or when I've had a car crash, who has been elevated throughout his medical career because of his race."
In her interview with The College Fix on Thursday, Mac Donald put it this way: "We are going to self destruct as a civilization unless we are willing to speak the truth about the real reason for racial disparities."
Click here to watch the entire Berkeley Law event.
Right now The College Fix has a back-to-school campaign to help us continue to support our amazing student journalists. A donation today will be matched thanks to a generous limited-time matching gift opportunity from a friend of The Fix! CLICK HERE for more details — and thank you!
MORE: America is committing civilizational suicide, Heather Mac Donald warns in new book
Like The College Fix on Facebook / Follow us on Twitter