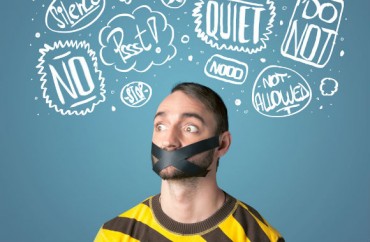 Tracking the long and growing list of words banned by the regressive Left is becoming onerous, but we carry on.
Here's the latest no-no: "derpy." How do we know? Because two scholars have just publicly apologized for using it, agreeing with a peer who called their use of it out as an ableist slur.
The Urban Dictionary defines it as silly, ridiculous, awkward or clumsy. But to social justice warriors who see microaggressions in every corner, it's an ableist slur. In other words, offensive to people with disabilities, they believe.
The apology, published earlier this month, states in part:
The word "derpy" was introduced to us as a pop-cultural term that meant believing in something despite the fact that it has been disproven. A provocative notion, given that our aim was to suggest that while queer theory has effectively undone "sexuality" as a concept, empirical research (even thoughtful, feminist sexual science) persists as if the complexity of sexuality is ultimately map-able and as if the right set of variables will resolve the epistemological differences of critical theory and neuroscience once and for all. …

As it turns out, the term "derpy" has also been appropriated as an ablist slur. We regret our negligence in not figuring that out before the Commentary was published.
Discover Magazine, in reporting on this issue, points out that while this is the first science-based derpy scandal, angst against this word has brewed for a while:
In 2012, the My Little Pony: Friendship is Magic cartoon ran an episode featuring a klutzy character called "Derpy". However, after worries that she appeared to be a stereotype of the "mentally handicapped", the character was renamed (and her voice re-recorded).

A change.org petition to "save Derpy" wasn't enough to prevent her dederpification.
So it looks official. Add derpy to crazy, insane, stupid and aaaaalllll the other words the Left has deemed verboten.
MORE: You can't say 'crazy' at Smith College: Student paper replaces with 'ableist slur'
MORE: Public university warns against saying 'you guys'
MORE: University deems words 'rape,' 'crazy' hurtful and harmful
Like The College Fix on Facebook / Follow us on Twitter
IMAGE: Shutterstock
Like The College Fix on Facebook / Follow us on Twitter