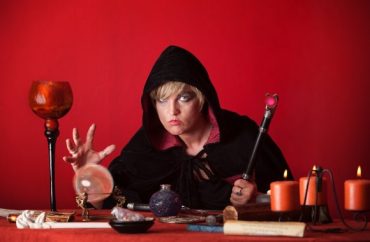 A campaign launched to oust a conservative student club at the University of North Texas includes a petition, a campus president "looking into" the matter — and if that weren't enough, apparently a witch has joined the cause.
The president of the Young Conservatives of Texas chapter reportedly faces spells of some sort from at least one self-described witch and possibly more who have sided with progressives seeking to pressure administrators to ban the group.
"A former UNT student posted a picture of items for a 'hex' with 'intentions of misfortune' against YCT leader Kelly Neidert. Anna Katz, a recent graduate of UNT, tweeted a picture of a drawing of a goat captioned 'the devil' and a cauldron. Katz, who later removed the Tweet, could not be reached for comment," reports the Washington Free Beacon.
"I think that is a demonstration of pure evil," Neidert told the Beacon. "It's not cute, it shouldn't be a trend, that's actually evil. Considering the card said 'the devil' on it … we shouldn't be interacting with anything that has something to do with him."
As for the petition, titled "Removal of the Young Conservatives of Texas from UNT for hateful actions," it accuses the students of "a pattern of racism, transphobia, and homophobia
throughout the 2019 through 2020 school year."
The petition accuses YCT of trivializing National Coming Out Day by encouraging conservatives to come out, as well as holding an affirmative action bake sale. Another complaint is over a rude tweet from the conservatives' twitter account linking LGBTQ to HIV.
So far, more than 2,500 have signed the petition, and in a tweeted reply, UNT President Neal Smatresk stated "We are looking into this."
A spokesman for UNT's College Democrats told the Free Beacon it has no comment on the "hex" and supports the petition.
In a statement, the conservative students say they have yet to be contacted by campus administrators over the uproar.
As for the petition's complaints, they note they quickly removed the member who sent out the rude HIV tweet reply when it occurred in September 2019. They also state that if their peers found the affirmative action bake sale racist, then they must believe affirmative action is racist by that logic. They also defended their coming out day decision, noting that on campus "it is clear that conservatives are outright hated for who they are."
Our statement regarding recent events in our UNT community. pic.twitter.com/DoUnsEwNK7

— YCT UNT (@YctUnt) July 8, 2020
The petition also dredged up a controversial "illegal aliens" event from 2005, but the YCT students note in their statement they had nothing to do with that 15-year-old event.
"We are not a perfect organization, but it is clear that some students just want us disbanded because we are conservatives. We are not going to bow down to the leftist mob … Everyone on campus, including us, has first amendment rights," the group stated.
The Texan reports that the controversy has caught the eye of a few Republican lawmakers, who have vowed to act if the conservative students are booted. In 2019, Texas passed a sweeping new law to protect free speech on college campuses.
Joe Cohn, legislative and policy director with the Foundation for Individual Rights in Education, told the Texan the university cannot legally ban the conservative student group.
"It is protected speech to ask for someone to be banned," Cohn said, "but the school can't give in to that demand."
MORE: New Texas law protects free speech on college campuses
IMAGE: Shutterstock
Like The College Fix on Facebook / Follow us on Twitter