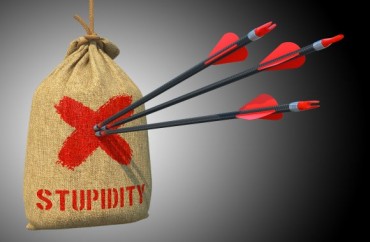 A high school in British Columbia, Canada is mired in controversy after a 10th grade assignment about the political spectrum labeled right-wingers as "racists."
According to USA Today, the assignment asked students to label as politically "left," "center," or "right" various statements such as "A person who believes that Canada should restrict immigration" (answer: "right").
But the statement that led a father to label the assignment "propaganda" was "A person who is a racist" (answer is also "right").
Matt DeFouw wrote on Facebook "I cannot let this slide. It must be exposed, discussed, and then expediently rectified. My son has told me that the teacher directed 'class discussion' on these matters is even worse than this worksheet."
Indeed, DeFouw says his son whited out his own answers and wrote in the teacher-provided responses: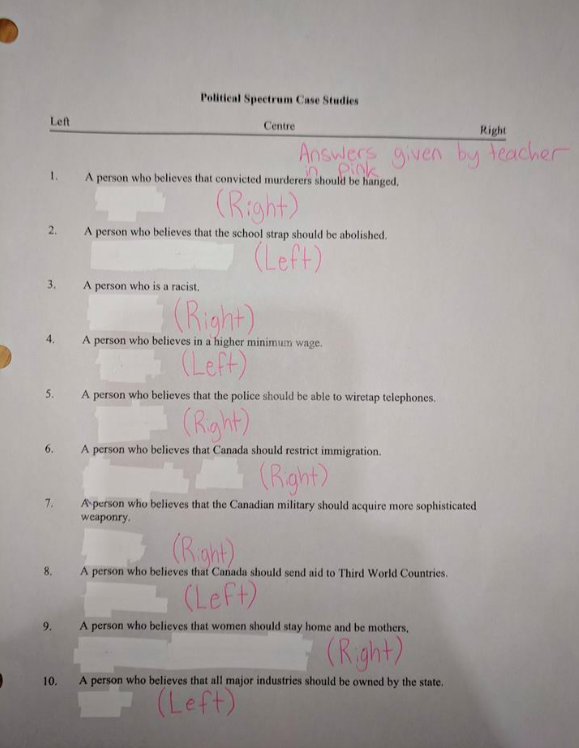 "This is 1984-esque propaganda at its very worst. It is essentially molding the next generation of voters to believe that Conservatives or people "on the right" are misogynist racists who hate immigrants and want to enact a brutal police state," DeFouw continued.
School District No. 73 – located in Kamloops, British Columbia – said in an emailed statement that the assignment was given to students in a social studies class as they were learning how world views lead to different perspectives in society.

"The teacher realizes that Monday's lesson was not balanced and was an oversimplification of a very complex topic and will revisit the lesson with the students to explore the topic more thoroughly," the statement says. …

That post has gained national attention, prompting British Columbia's education minister to criticize the worksheet as "offensive," according to Global News.

"A teacher made a mistake. They used a resource that didn't do a good job and didn't teach the curriculum well," Rob Fleming is quoted by the publication as saying. …

The school says it is investigating the context of the worksheet. The school district says DeFouw was satisfied with their response to the situation.

In an interview with Global News, Assistant Superintendent Bill Hamblett said he was critical of the worksheet's characterization of racism: "Racism knows no political stripe."

The worksheet will no longer be used in the school district, and multiple agencies are looking into the matter, CTV Vancouver reports.
Overlooked is the equally dopey statement that rightists want women to stay at home to be mothers.
MORE: HS assignment: Present argument in favor of the Holocaust
MORE: Middle school assignment: Write gun control letters
IMAGE: Tashatuvango/Shutterstock.com
Like The College Fix on Facebook / Follow us on Twitter