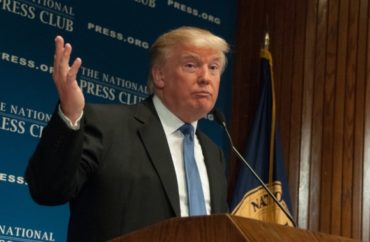 A North Carolina high school cheerleading squad was … "disciplined" recently for holding up a "Trump 2020" banner which also included the president's popular slogan "Make America Great Again."
The girls from North Stanly High School were given probation, but not by anyone associated with the school or district; that decision came from the North Carolina High School Athletic Association, according to CBS News.
NCHSAA Commissioner Que Tucker said probation "serves as a notice of behavior or action that is against NCHSAA Handbook Policy or contrary to expectations of sportsmanship and proper behavior that could bring additional sanctions." These penalties can include a fine or a suspension "should infractions persist."
Despite no discipline by the school district, the Trump banner display did violate school board policy:
"This policy does not prohibit students from speaking their minds or engaging in protected First Amendment activities," a district spokesperson said. "Because the cheerleaders were in uniform and were acting as representatives of the school, the display of the sign could be perceived as the school or school system endorsing a political campaign."
Many are outraged that the cheer squad held up a political sign during a school-affiliated sporting event. Some, however, are outraged that they are being put on probation for practicing their First Amendment right.

The photo posted on Facebook on August 30 received a range of comments. "As much as I DON'T agree with that banner… it is their right as young adults to support whomever they want. I understand this is a football game, but as long as they don't interrupt the game… I don't see an issue with the banner," one person wrote. …

"They only did it to see if they could get people upset," another commented. "I understand that it's their right… but they ain't even old enough to vote."
What the CBS report omits is that the theme for the game in question was "American Night" — students and spectators were "encouraged to dress patriotically," according to the Stanly News & Press.
MORE: Black high schooler attacks white peer over MAGA hat, 'Trump' banner
MORE: Superintendent apologizes for 'Trump' banner at HS football game
IMAGE: Albert H. Teich / Shutterstock.com
Like The College Fix on Facebook / Follow us on Twitter