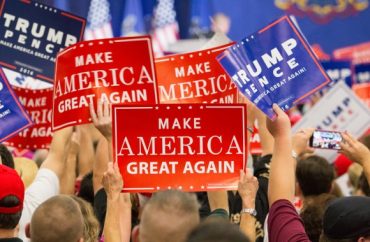 An 18-year-old black Oklahoma high school student threatened, then attacked, a white underaged peer who was wearing a MAGA hat and a "Trump" banner as a cape, and it was all caught on video.
Kenneth Jones is not yet formally charged with assault and battery, but the offense is part of a municipal court summons in his name. The "altercation," as The Edmond Sun puts it, occurred at Edmond Santa Fe High School on Monday.
On the video Jones tells the other student to "Take it off or I'll rip it off" and asks "Do you want me to rip it off?" He later adds "Which way do you want it?" and "Take that shit off!" as he yanks away the banner and then walks away.
The white student seems to not want any part of the confrontation:
A Trump supporting student at Edmond Santa Fe High School had his MAGA flag ripped off of him by another student.

These malicious attacks must be dealt with.

RT! pic.twitter.com/ssw208g82Z

— Ryan Fournier (@RyanAFournier) February 26, 2019
The altercation took place during Santa Fe's fundraiser, Double Wolf Dare Week. A school resource officer issued a ticket to the 18-year-old student at school Monday, [Edmond Police spokeswoman Jenny] Wagnon said.

A mediation process is the next step facing the students.

"How the summons works is that the student who is an adult, who was given the municipal summons, and the parents of the other student in the hat — those parents will have to contact the city attorney's office within five days," Wagnon said. "And then both parties will meet with the city attorney and try to work something out. If not, then it's up to the city attorney to file the assault charges against the student who is an adult." …

[School spokeswoman Susan Parks Schlepp said] "Given that hats were allowed at school yesterday as part of the week-long fundraising events, there was no specific dress code violation. The student's choice to grab a classmate's property and knock his hat off did, however, violate the school's discipline policy. In response, Edmond Santa Fe High School administrators, working simultaneously with Edmond Police, addressed the incident with swift and immediate disciplinary action.
Schlepp added the district "honors students' First Amendment rights," but "at the same time must be vigilant" as students  "learn how best to respectfully express their opinions."
It's not clear if this was in reference to Jones, or the student he attacked.
MORE: School bans student's MAGA hat, claims creates 'unsafe' environment
MORE: Conservative punched in face over MAGA poster at UC Berkeley
IMAGE: Shutterstock.com
Like The College Fix on Facebook / Follow us on Twitter