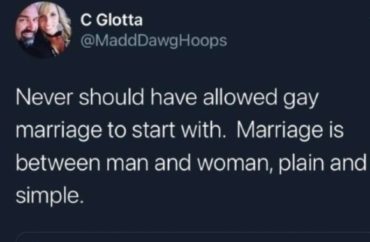 Former student demands he be fired
A public school district in Missouri launched an investigation into a coach and teacher at the school after he tweeted criticism of homosexual marriage. While the coach currently still works at the school, a former student wants to see the coach fired.
Charles Glotta, a basketball, tennis and track coach in Fort Zumwalt's school district, tweeted on October 3, in response to another tweet, "Never should have allowed gay marriage to start with. Marriage is between man and woman, plain and simple," according to a screenshot of the since-deleted tweet.
Glotta was responding to a tweet from actor Jeremy Leroux criticizing the Republican Party for its position on gay marriage.
Glotta did not respond to multiple emailed requests for comment from The College Fix in the past week about the status of the investigation and his comment on the situation. He express regret soon after sending the first tweet, Fox 2 News reported. (The news organization does not identify Glotta by name, but other news reports and a petition identify the coach).
Glotta tweeted:
I made a post earlier that was apparently insensitive to many and hurtful. We all make mistakes and mine was public. I apologize to anyone that was offended. In reading responses I am deeply regretful of hurting anyone's feelings.
The coach's Twitter is currently set to private.
The district's superintendent claimed that his tweets violated the school system's ethics policy, but did not respond to multiple emailed requests from The Fix in the past week seeking a copy of the policy and clarification on enforcement of the policy.
MORE: University investigated baseball coach after he criticized Black Lives Matter
Metro Weekly said Superintendent Bernard DuBray "confirmed that the tweet violated the school district's ethics policy."
"His Twitter feed — it wasn't privatized and so it was open for any of our students, parents, community to see," DuBray said, according to Metro. "If he wants to have an opinion that's fine but he needs to keep it to himself or privatize his Twitter."
DuBray also did not respond to questions from The Fix to clarify where it states that employees of the school district are not allowed to post their opinions on their own social media and how the school district enforces this policy.
The school's "Staff Ethics" policy section of its handbook does encourage staff to "privatize [social media] sites to prohibit student access" but says nothing specifically about sharing opinions on religious and political issues.
Melissa Swaringham, the school's human resources generalist, did not respond to multiple emailed requests for comment from The Fix asking for an update on the investigation and what policies Glotta is accused of violating.
The district's assistant superintendent of personnel, Henry St. Pierre, did not respond to an emailed request for comment from The Fix on Monday morning, asking for information on the status of the investigation and if he stood by DuBray's statements.
Thousands sign petition advocating for termination
Caitlin Bush, who said she is a former student of Glotta, wants to see him fired. Bush has circulated a petition calling for the firing of Glotta over his tweet.
Glotta "shared something no teacher should vocalize on a platform (Twitter) that students are guaranteed to see," Bush wrote in the Change.org petition. "This isn't the first time he's said something this ignorant, but it will be the last-if we can help it."
Bush accused Glotta of sexually assaulting someone but did not provide any more details when asked by The Fix. Bush did not respond to an email and a text message seeking comment on her allegations and on her petition.
"This sorry excuse of a man should have been fired years ago, and it is embarrassing to the district and especially to the school that such an intolerant, disrespectful, creepy old man still works for them," Bush wrote in the petition.
It currently has over 2,000 signers.
MORE: Iowa State professor forbids students from criticizing BLM, gay marriage, abortion
IMAGE: Change.org
Like The College Fix on Facebook / Follow us on Twitter