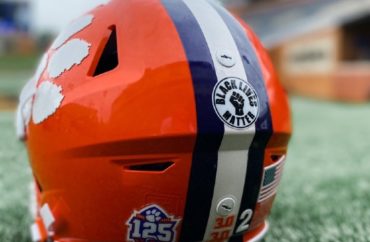 He will remain as coach but university still will not say what he was investigated for
The University of South Carolina Aiken recently investigated longtime head baseball coach Kenny Thomas for a social media comment critical of Black Lives Matter. While the university appears to have completed the investigation, campus officials have not directly said what rules Thomas was accused of violating.
Thomas commented on someone's Facebook post that included a photo of a Clemson University football helmet with a Black Lives Matter sticker on it. 
Thomas wrote in mid-September, according to WJBF, "It is 100% shameful, I promise you will never see anything like this on my field. I support the Blue and not ashamed to say it!" 
In an October 5 statement, Phylesha Hiers, a spokesperson for the school, shared a statement via email with The College Fix and attributed to Mary Driscoll, a university administrator.
"UofSC Aiken administrators have met with student groups to listen to their concerns and continue to dialogue with them through Town Halls and other forums," the statement said.
"Coach Thomas and Chancellor Jordan have separately met with the UofSC athletes to establish an agreed-upon path forward."
Thomas will remain as the school's head baseball coach. The new statement did not address specifically if any actions were taken against the coach and if Thomas faced any punishment for his actions.
The photos were posted on September 12 on Clemson football's Twitter account. Two photos say "Black Lives Matter" while one sticker says "Equality" and another says "Love."
Playing with a purpose. pic.twitter.com/kIKTGcBY4P

— Clemson Football (@ClemsonFB) September 12, 2020
"The university is taking appropriate personnel action with this matter," the university's Twitter account posted on September 15, attributed to Sandra Jordan, the school's chancellor.
"The posted remarks stand in sharp contrast with the work being done in offices across this university by men and women who are committed to diversity, inclusion, belonging, and equality."
A response from Chancellor Sandra J. Jordan: Words simply cannot express my disappointment of a publically known university member who last night posted a remark on a personal social media page that seemed to be intolerant of the Black Lives Matter movement.

— USC Aiken (@USCAiken) September 15, 2020
The university did not describe at the time what "appropriate personnel action" meant.
Hiers previously referred The Fix to the chancellor's statement in response to an emailed request for comment on any investigation and Thomas' status. Thomas had previously announced his intention to retire in 2021, prior to the incident.
Jordan confirmed on September 17 at a school townhall meeting that the school had launched an investigation against Thomas and said the school was investigating if Thomas violated his contract, according to the Aiken Standard.
MORE: Student-athletes boycott practices after athletic director said all lives matter
"The question is, did he violate any terms of his contract? That, I can legally act on, and that's what I'm investigating," Jordan told the crowd, according to the Standard.
She said she is relying on contract law to investigate Thomas, including "The fact that he brought the university into it by talking about 'his field' and 'his students'" Jordan said.
The USC Aiken NAACP chapter and Black Student Union issued a joint statement on Facebook, directed at the university administration.
The statement read: "We find the actions of not only your faculty and staff but administration to be unacceptable and nothing less of disrespectful. The current culture that has been created on this campus is unbearable and will not be tolerated." 
Aimed at the university, the statement further asked, "when will empty apologies become formidable action?"
The Fix sent an email and a Facebook message to the USC Aiken Black Student Union, inquiring about what actions the group wants to see taken against Thomas, but received no response in the past week.
Thomas wrote on his Facebook on September 14:
Apparently some folks have taken my comment about the stickers on the Clemson football helmets to some degree it was not meant to be. My intent for the comment was to wish college athletics would not have to be involved in the politics of today."

If you know me, you know I have always respected and appreciated not only my players, but people in general without regard to any race. Might of fact I would say I truely [sic] love all my current and former players. If I have hurt your feelings I'm very sorry. 
He did not respond to a Facebook message from The Fix seeking comment on the investigation.
Local politician calls it a 'witch hunt'
While Thomas asked supporters of his to cancel a planned rally, at least one local leader has come out publicly in defense of him.
The Standard reported that Jason Crane, an Aiken County School Board member and university alumnus, came to Thomas's defense. Crane sent an email to University of South Carolina President Bob Caslen, describing Thomas's investigation as a "modern day lynching of a good man." 
Crane told The Fix that in his email to Caslen he wanted to convey the message that "exercising your constitutionally guaranteed rights should not result in a witch hunt against a twenty year employee with an impeccable record, especially at a taxpayer-funded state institution." 
"Thomas is generally regarded as a pillar of our community" who has "worked with students of all ages, races, and backgrounds for many years," Crane told The Fix.
MORE: University athletes want student expelled for tweet about George Floyd's drug use
IMAGE: Clemson Football/Twitter
Like The College Fix on Facebook / Follow us on Twitter