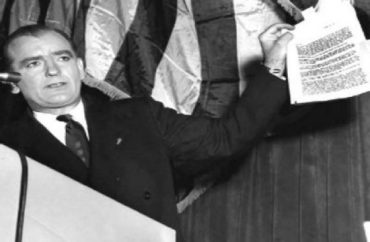 An alleged history lesson on McCarthyism from a Michigan high school is under the microscope due to a questionnaire which asked students about their parents' mental health, politics and employment.
Obtained by the Twitter account Inside the Classroom, the Grosse Pointe South High School questionnaire also asks:
— "What is your home address?"
— "Do you live with your parents? If not, with whom do you live? Explain why you do not live with your parents."
— "Do you attend a church on a regular basis? If yes, write the name of the church. If no, explain why not."
— "Do the adults in your family regularly vote in elections? If yes, for which political party do they usually vote?"
According to Michigan Capitol Confidential, the district claims the uproar started when a student snapped a photo of the survey and posted it on social media "with no context." The district also said students did not have to answer any of the questions on the survey.
In a statement from April 11, the Grosse Pointe South administration noted classes were "learning about McCarthyism in U.S. history class" that week.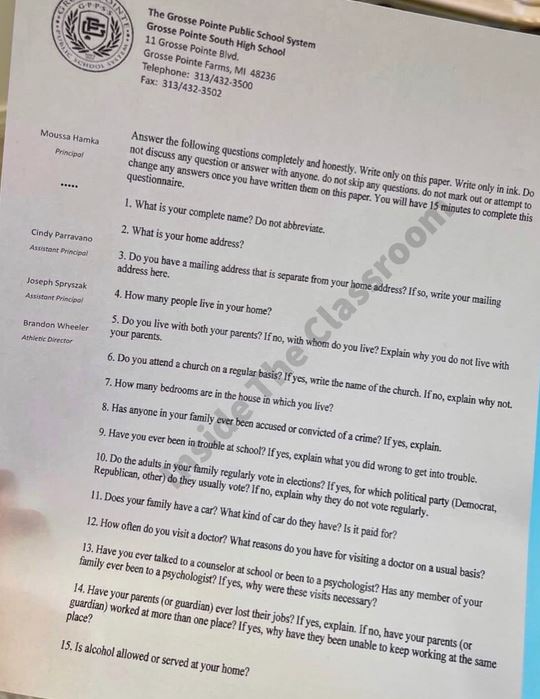 MORE: 'McCarthyism is making a real comeback' thanks to Middlebury College
"The document and questions were intentionally designed as a simulation of McCarthyism and to make students question the appropriateness of the information being requested. In fact, within a minute, the teacher explained the purpose of the exercise was not to collect this information, but to demonstrate how private citizens' rights and privacy were invaded during McCarthyism in the 1950s …"
The statement noted the teacher designed the lesson "several years ago" and this was the first time there had been an issue with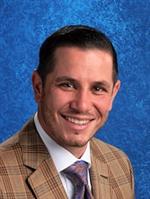 it.
"[W]e support our teachers' ability to create lessons that resonate with our students and have a lasting impact," the statement said. "There was no harm done with this exercise and certainly none intended."
The school requested that in future, anyone concerned about a lesson should contact the school directly before going to social media.
School administrators said the students' questionnaires eventually were collected and then "destroyed."
Complicating the McCarthyism lesson somewhat is a report from last year which showed Grosse Pointe South Principal Moussa Hamka (left) had liked a tweet which asked "Do you think Republican politicians are like Nazis?" According to the Grosse Pointe News, Hamka had admitted to the "like" but then denied it.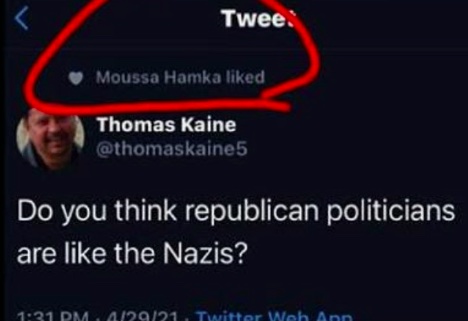 Hamka's school bio notes he also teaches mathematics at Henry Ford Community College.
The reaction to Inside the Classroom's post was quite negative with concerns ranging from student privacy concerns, to wondering if the questionnaires actually were destroyed.
If the only purpose of this was instructional, then why print a form for each student? This could have been shown on a Promethean board or other similar screen. Also, why wasn't there a disclaimer at the bottom of the sheet indicating it was a part of an assignment?

— MacNCheese (@MacNChe45923918) April 16, 2022
Some, however, did not think the issue all that big a deal. One Twitter user wrote "Best to be accurate with your outrage, and you will find more things like this, but appears to be a non-story." Another chided the student who started the whole controversy:
It was a lesson to make the kids think. Nothing wrong with that. The student had no business taking a picture of it!

— Cathy Hignite (@CathyHignite) April 16, 2022
MORE: Harvard's oldest male-only club accuses officials of 'McCarthyism' for coed mandate
IMAGES: Inside the Classroom, Miss Patriot/Twitter screencaps; Grosse Pointe Public School System
Like The College Fix on Facebook / Follow us on Twitter