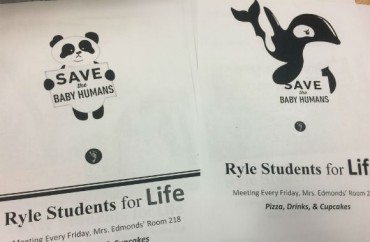 Realizing the power of cute animals long after the Internet discovered them, pro-life activists are changing up their messaging by incorporating friendly critters in addition to smiling babies.
That was simply too much for a high school principal in Kentucky, who rejected six of seven flyer designs that the Ryle High School Students for Life club wanted to use to advertise its meetings, according to Students for Life of America.
The lone flyer approved for posting around the school by Principal Matthew Turner (with "okay" written on a sticky note) features a photo of the Holocaust victim Anne Frank and an inspiring quote attributed to her. It has no mention of abortion or being pro-life.
Rejected flyers featured a popular new meme among young pro-lifers – cartoon baby animals holding signs reading "Save the Baby Humans."
They also included pictures and quotes from Mother Teresa, Apple co-founder Steve Jobs (who has publicly thanked his biological mother for not aborting him), singer Lauryn Hill (who wrote a song about choosing against abortion), and students holding signs reading "I am the pro-life generation."
On a sticky note attached to the Mother Teresa flyer, Turner wrote: "Signs are to communicate information about meetings, not to promote or persuade."
According to a demand letter sent to Turner by attorneys representing SFLA in Kentucky, the principal told student Patrick Edwards that his club was subject to higher scrutiny because of its "controversial nature":
You also admonished Patrick that "students have a right to not participate or be exposed to the abortion issue" and that you "did not want a pregnant mother or pro-choice student to feel discriminated against."
Edwards said in SFLA's release that his group was called "too controversial" to advertise as freely as other clubs:
"I believe it's important to be able to share positive pro-life messages with my peers, especially with students who may be facing an unplanned pregnancy or know someone who is. Our aim is never to discriminate but to lovingly present the pro-life message and make a positive impact on our school community."
SFLA's lawyers claim that the school is violating the Supreme Court's Tinker precedent, which only allows student speech to be regulated if it's likely to cause a "material and substantial interference" in the school environment, not simply create "discomfort or unpleasantness." (Tinker has never been applied at the college level.)
Because Ryle High School has allowed for a "limited open forum" with clubs, it must treat all clubs equally under the federal Equal Access Act, the letter continues.
If the school doesn't agree to its demands by next week, SFLA will sue.
Read the post and letter.
Like The College Fix on Facebook / Follow us on Twitter
IMAGE: Students for Life of America