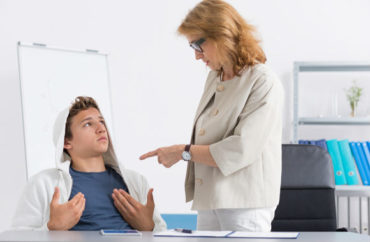 'Provention' is the key
Worried about students taken a semester off because of lingering uncertainty about the COVID-19 pandemic, and the loss of revenue their absence represents?
Higher education gurus have a potential solution: "provention."
Colleges that focus on promoting healthy behaviors among students – a "pro" twist on "prevention" – might incentivize them to come back to campus in the fall, a law professor specializing in higher ed told a Tuesday webinar hosted by the Association of Governing Boards.
"The strength of higher education lies in the efficacy of teachers and students connecting with each other on the very platform of wellbeing and social justice that higher learning is built on," said Peter Lake, who directs the Center for Excellence in Higher Education Law and Policy at Stetson University.
"To make this work in the fall, we're going to need people to voluntarily engage in social distancing or to accept and internalize provention-type efforts," Lake continued. "I think this actually a major point of choice for people coming back in the fall."
EverFi's Rob Buelow introduced the "provention" concept in the webinar, titled "Transforming Crisis Leadership into Community Stewardship." It was based on findings from a survey of student affairs officers sponsored by the education technology company, where Buelow is senior vice president for higher education and impact.
Retention and attainment rates improve when prevention and provention efforts are successful, Buelow said, citing survey data.
"My instinct is when we analyze the data going forward, we'll see that the schools that have engaged in good prevention and provention will be big winners, if there are any, in the COVID crisis," Lake said.
Buelow's presentation described schools that spend more money on "prevention" – in other words, administrative spending – as "leading institutions." They have one prevention employee for every 4,972 students, while "average" institutions have 9,191 students per prevention employee.
Purportedly leading institutions spent nearly three times as much per student on prevention ($14.44) as do so-called average schools ($4.78), according to the presentation.
Buelow explained provention in the context of discouraging heavy drinking and sexual assault among students, more so than dealing with the coronavirus crisis.
When it comes to binge drinking, he said, colleges usually stick to a "harm reduction message" and prevention-focused efforts "get pushed down" the list of priorities for institutions.
"In an effort to sound realistic and relatable to students, in orientation programs they're often receiving messages from staff members like 'we know you're going to drink and we want you to just be safe and be informed,'" Buelow said.
The key is to take a two-pronged approach to the two issues: balancing prevention, or highlighting the behaviors they should avoid, with provention, or promoting positive behaviors.
A major shortfall for institutions is that they are "hyperfocused on first year programming" when it comes to instructing students on behaviors such as sexual assault and heavy drinking, according to Buelow.
"Prevention should be viewed as an investment, and not as an expense," he said. "When you look at the student life cycle from enrollment to academic success to student engagement, to retention and career readiness, these issues are central to our mission and our revenue model."
Continuing to spin off new versions of the made-up buzzword, Lake said that students are increasingly looking for an environment that is "proventative."
MORE: University president apologizes for drinking from beer bong
IMAGE: PhotographeeDOTeu / shutterstock
Like The College Fix on Facebook / Follow us on Twitter