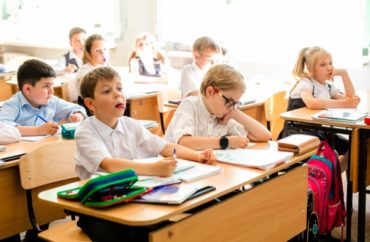 Their questions brought the ordeal to a quick end
A bus full of kindergarteners was headed to school in Columbia, South Carolina, on May 6 when it was hijacked.
A man with an ARMY shirt and rifle allegedly forced his way onto the bus, ushered the 18 kids to the front of the school bus, and told the driver to take him to the next town over, Good Morning America reports.
However, the bus did not make it to the hijacker's intended destination.
The kids kept peppering the man, 23-year-old Fort Jackson trainee Jovan Collazo, with questions.
Bus driver Kenneth Corbin said the students asked Collazo if he was a soldier and that he "hesitantly answered 'yes."
After that, the questions just kept on coming.
"They asked him, 'Why are you doing this?' He never did have an answer for this one. They asked, was he going to hurt them? He said 'No.' They asked, 'Are you going to hurt our bus driver?' He said, 'No. I'm going to put you off the bus,'" Corbin said to the morning show on May 17.
In Corbin's estimation, Collazo "sensed more questions coming and I guess something clicked in his mind and he said, 'Enough is enough already,' and he told me to 'Stop the bus, and just get off.'"
The students and bus driver were freed, only six minutes after the ordeal began.
Collazo drove the bus a ways and then continued on foot. He was rounded up and faces 19 counts of kidnapping and other charges. He remains in custody.
Police believe that something went wrong with Collazo's training and that he was trying to get to his home in New Jersey.
After police apprehended Collazo, they found that the rifle was unloaded, the Washington Post reports.
Bus driver Corbin has received much praise and commendation for how he handled the hostage situation.
Corbin doesn't deny he did what he could to keep the situation from escalating, but he praises his curious, short passengers as the real heroes.
"The kids were the ones that actually got the gentleman off of the bus and they pretty much had my back, as much as my concerns were with them," he told Good Morning America.
MORE: Elementary-level books nearly even with college-level in 'common reading programs,' study finds
IMAGE: Shutterstock
Like The College Fix on Facebook / Follow us on Twitter