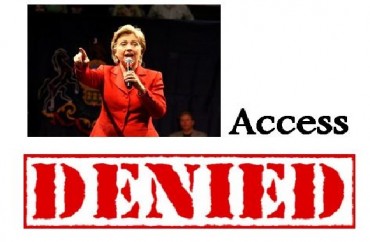 Some who sought access to Clinton's talk on Cuba at public university turned away, video shows
Hillary Clinton staffers denied entrance to a group of millennials who sought to gain admittance to her speech Friday at Florida International University, where the Democratic presidential frontrunner called for the U.S. to lift the embargo against Cuba.
"We are at full capacity, this is a private event for confirmed guests only, I do apologize," a staffer told the small group of people seeking entrance to the talk, a video obtained by The College Fix shows.
It's just the latest example showing how the Clinton camp keeps a tight clamp on who may access her public appearances on the campaign trail.
When Clinton visited Dartmouth College in early July, her staff did not let College Republicans stand near the podium. In April, what was billed as a chance for Clinton to interact with everyday people in an Iowa coffeehouse instead turned out to be staged to the last detail, including staffers getting Democratic activists to act as regular customers.
As for the cellphone video from Florida International University – it was taken by Florida resident and Republican activist Lauren Cooley, 23, who said she was with some college Republicans. She said she was later told by at least one reporter who attended Clinton's speech that there were empty seats in the venue that could have accommodated them.
"The very first thing that [the Clinton staffer] says is it's full and also it's a private event, but when we talked to people who attended we heard there were a lot of public seats," Cooley said in an interview Sunday with The College Fix. "It's typical of the Clinton operation to try to manage who is at the event."
Cooley said her group was not identifiable as college Republicans. Instead, she said she believes the Clinton camp was concerned about letting "unknowns" into the room, as Clinton is known to orchestrate public appearances to the last detail.
"We saw other people trying to get into the event that were legitimate supporters who were turned away," she said. "From my perspective, it's all speculation, but I think people who showed up early and were waiting in line, they let them in right away because they showed they were committed to the cause."
Cooley said she believes she and others were turned away because Clinton did not want to take the chance that she might be forced to field difficult questions.
"We wanted to hear what she had to say and ask some hard hitting questions," Cooley told The Fix, adding that if she had had her chance, she would have asked Clinton "why she flip flopped on her foreign policy for Cuba now that President Obama has advocated for lifting the embargo."
The Miami Herald reports the "invitation-only crowd of more than 200 greeted Clinton with a standing ovation, and gave her another as she wrapped up her roughly 30-minute speech."
After Cooley and her clan were turned away, they joined a protest outside the campus against Clinton's stance to lift the embargo against Cuba. The demonstration consisted of several dozen people, including conservative student groups and community activists, but they were "threatened with arrests for protesting on the public university's campus" by the campus police, Campus Reform reported Friday.
Like The College Fix on Facebook / Follow us on Twitter