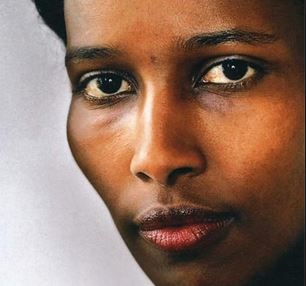 A video released Thursday of Ayaan Hirsi Ali's recent speech at Yale University included a shocking revelation from the global women's rights activist and outspoken critic of Islam: At one point in her young life she considered herself a member of the Muslim Brotherhood.
She couched this admission in a much larger explanation of how and why radical Islam is oppressive and breeds violence, and to explain how she knows personally that it does.
She's been accused of being angry at Islam. She's been accused of not being an expert on Islam. She's been accused of not understanding Islam.
But in her speech that the Yale Muslim Student Association didn't want her to give, she delves into her Islamic credentials and exposes what she calls "the cancer" of Islam:
Why is my experience relevant? Is it because I was raised a Muslim? Is it because I was married off or had my genitals cut? No.

Is my experience relevant because my citizenship in Holland was revoked? No. Is it because I am traumatized, because I am angry, and I decided to blame my family and my past? No. I am not angry, I have been happy for a very long time and I am not blaming anyone.

I'll tell you why (my life experience) is relevant to what we are seeing now. I learned from my early teachers of Islam that to be a Muslim was to testify that there is no God but Allah and Mohammad is his messenger. I learned to pray five times a day. … To give alms to the poor and to attempt at least one trip to Mecca.
She goes on to say that the typical Muslim is peaceful and loving. But when she was 15, a different type of instructor came along who differed from the instructors of her youth. These new teachers created an "enlightened vanguard" of Muslim students who were taught that neglecting religious duty makes them an infidel, that their duty is to command right and forbid wrong. These teachers made students vigilantes, and she recalled one such "preacher teacher" in particular:
He preached like all the others, incessantly about hell. … He encouraged us to be relentless in enforcing the rules of Islam … for the stubborn who refused to obey and observe, we were to cut ties with them … he encouraged us to convert non-Muslims or cut ties with them. … Jihad – we were to wage Jihad for the sake of Islam. Martyrdom, the best thing to ever happen to us was to die while fighting for Allah. We were to strive for the establishment of Sharia law in our society and beyond … be suspicious of Christians if they refused to convert to Islam … and aspire to destroy the Jews, all Jews, not only the ones in Israel. The preacher teacher would rant against gays, they were to be hanged, and women were to know their place … their place was at home (and they were to) sacrifice everything, even life and the lives of their children for the sake of Allah. … We were supposed to cover ourselves from head to toe when running errands outside the home.

This process of indoctrination that I describe, that affected me, I considered myself once a member of the Muslim Brotherhood, it's this the process of indoctrination that I have seen from up close and personal that makes my experience relevant. It's this process of indoctrination that is overlooked. We focus on the Jihad, the violence, but we ignore the Dahoa, we ignore the years and years and years of preaching.

Dahoa in the West is protected under religious freedom, but Jihad is not. We have to rethink that. Dahoa leads to intolerance, and eventually violence. This preaching teacher … is the cancer … this preaching teacher is active in our communities here in the United States and in the U.K., and in Europe and the rest of the world. This preaching teacher is embedded in homes, streets, neighborhoods, schools, colleges and mosques and Muslim centers. … His goals are clear, and he'll use any and all means necessary to indoctrinate young and impressionable minds with the creed of Jihad.
Watch the video:

Like The College Fix on Facebook / Follow us on Twitter
Like The College Fix on Facebook / Follow us on Twitter