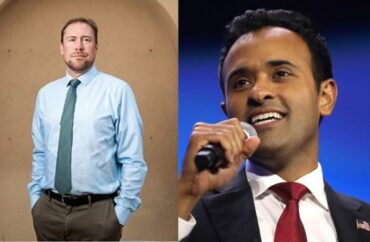 One of the two Indian candidates 'whistled the loudest'
While Republican presidential candidates discussed hiring police officers and reducing the influence of teachers unions during Wednesday's primary debate, one historian was able to hear something different – "dog whistles" about "race."
"At a time when the Republican Party is struggling to gain the support of minority voters, their first debate featured a chorus of dog whistling on issues of race," Arizona State University Professor Calvin Schermerhorn wrote in The Conversation.
Vivek Ramaswamy, an Indian-American entrepreneur, "whistled the loudest," the historian wrote.
Schermerhorn (pictured, left) wrote:
He would put more cops on the streets who did not have to "look over their shoulder for getting sued," a jab at Black Lives Matter and the broader push for police accountability.

Ramaswamy vowed to "end the teachers' unions" and impose a civics test on 18- to 24-year-olds in order for them to vote, echoing Jim Crow literacy tests that were imposed on Black voters. "Reverse racism is racism," he added in closing.
After writing that Ramaswamy had the loudest dog whistle, the historian then said that actually Governor Ron DeSantis was the loudest.
"Not to be out-dog-whistled on the crime issue, Florida Gov. Ron DeSantis accused liberal philanthropist George Soros of 'funding radical left-wing district attorneys,' who, in this view, turn a blind eye to street crime at the urging of the 93-year-old Jewish billionaire," the historian wrote.
Soros "has channeled more than $3 million into seven local district-attorney campaigns in six states over the past year — a sum that exceeds the total spent on the 2016 presidential campaign by all but a handful of rival super-donors," Politico reported in 2016. Soros has continued to fund liberal prosecutors in subsequent elections.
Former United Nations Ambassador Nikki Haley, who is Indian, also dog whistled when she criticized the "crazy woke things happening in schools."
South Carolina Senator Tim Scott, who is black, "didn't deviate from the conservative script that government aid hurts families and vowed to 'break the backs of the teachers' unions.'"
Scott also spread racist dog whistles, according to the ASU historian, when he mentioned being raised by a single mom and touted President Donald Trump's record on creating jobs for black and Hispanic Americans.
Criticism of laws designed to make it easier for accused criminals to get out of jail is another racist dog whistle, the ASU expert concluded.
"Former Vice President Mike Pence opposed bail reform, a civil rights measure that is strongly supported by progressive voters," Schermerhorn wrote.
MORE: 'Viewpoint diversity' is a dog whistle, scholar says
IMAGES: Arizona State University; Gage Skidmore
Like The College Fix on Facebook / Follow us on Twitter