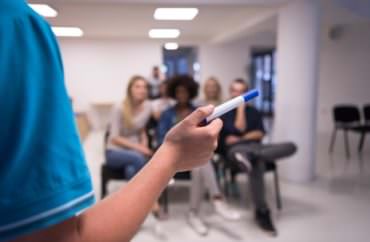 Twitter comments recently made by a University of Southern California psychology scholar sparked a lively debate regarding commonly used free speech terminology.
Leslie Berntsen, a lecturer for USC's Department of Psychology, received some push back from Twitter users a few weeks ago when she condemned the expression "viewpoint diversity" and similar phrases.
Her tweet read: "I cannot emphasize this enough, but terms like 'echo chamber,' 'viewpoint diversity,' etc. are HUGE DOG WHISTLES for some unspeakably nefarious stuff."
"So many seemingly well-meaning academics are getting so played by these terms and you (honestly and truly) really hate to see it."
A dog whistle is defined as "a subtly aimed political message which is intended for, and can only be understood by, a particular group," according to Merriam-Webster.
There is a "fine line…between understanding a perspective to refute it and understanding it on its merits," continued Berntsen on her Twitter thread. "There are tons of folks who are drawn in by this idea of listening to 'both sides' (irrespective of content) as a Fair Thing To Do, and then end up going *FULL IDW* and it's truly horrifying to watch happen in real time."
IDW stands for the Intellectual Dark Web, which is described as a group of influential thinkers "willing to disagree fiercely, but talk civilly, about nearly every meaningful subject worthy of public discourse: religion, abortion, gender identity, race, immigration, the nature of consciousness."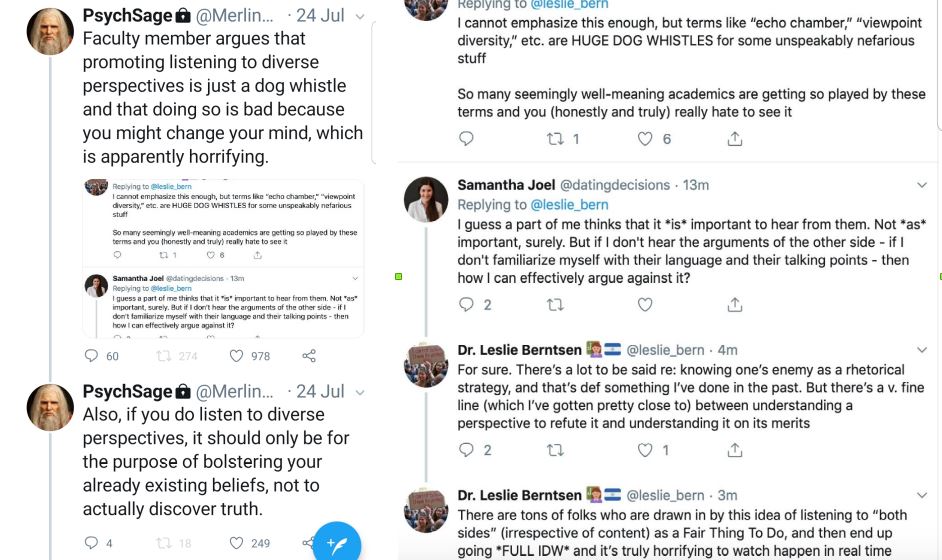 Berntsen's tweet was criticized by @MerlinPsychSage, who screenshot her tweet (as her account is private) and stated: "Faculty member argues that promoting listening to diverse perspectives is just a dog whistle and that doing so is bad because you might change your mind, which is apparently horrifying."
Berntsen replied it was "patently ridiculous" to imply she was denying the importance of diverse perspectives, and added: "It's a problem when people use the idea of 'viewpoint diversity' to lend credence to thinly-veiled bigotry. Screenshot that."
Reached by The College Fix to expand on her views, Berntsen stated that she has an issue with "a very specific use of the term 'viewpoint diversity.'"
"The idea that terms like 'viewpoint diversity' and 'freedom of speech' can sometimes be used to shield bigoted speech is certainly not new," she said.
To back up her position, Berntsen referred to a study titled "Freedom of racist speech: Ego and expressive threats." Researchers "found that explicit racial prejudice is a reliable predictor of the 'free speech defense' of racist expression."
"When people make appeals to democratic principles — like 'freedom of speech' — they don't always represent a genuine interest in that principle," Mark White, a graduate student in psychology and co-author of the study, stated in a news release. "We think of principles as ideas we use to guide behavior in our everyday lives. Our data show something different — that we tend to make up our mind on something based on our attitudes — in this case, racial attitudes — and then decide that the principle is relevant or irrelevant. People do whatever best fits their pre-existing attitudes."
Berntsen told The Fix she is not someone who "refuses to entertain any perspectives that differ from their own," but simply takes issue with the way terms like "viewpoint diversity" are often used.
One of the biggest supporters of viewpoint diversity is Heterodox Academy, which is a self described "non partisan collaborative" made up mostly of academics and dedicated to "promoting open inquiry, viewpoint diversity, and constructive disagreement in institutions of higher education."
Founded in 2015 and having just their second conference this past June, Heterodox Academy is a relatively new organization. @MerlinPsychSage claims to be a member in his Twitter bio. His account is also private.
When asked if she thought Heterodox Academy was responsible for promoting harmful forms of "viewpoint diversity," Berntsen responded: "It would be unfair for me to make any generalizations about the organization as a whole."
MORE: Viewpoint diversity resolution voted down 
IMAGE: Shutterstock
Like The College Fix on Facebook / Follow us on Twitter