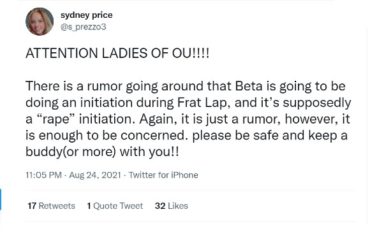 '[N]o evidence was found to support the claims'
There is no evidence to support social media rumors that a fraternity at the University of Oklahoma has a "rape initiation" for new members, the police recently concluded.
"The university has concluded its review and no evidence was found to support the claims," a spokesperson told the OU Daily. "As a result, no charges will be filed against the organization or any of its members, and this matter is considered closed," the spokesperson told the campus paper.
A screenshot of an OU student group chat shows another example of the rumor.
We've become aware that certain inflammatory assertions about the Beta Theta Pi fraternity have recently been posted in social media, including this one. These statements are irresponsible, patently and absurdly false, and defamatory in an extreme sense. 1/2

— Beta Corp of Okla (@OUBetaCorp) August 26, 2021
Beta Theta Pi, the target of the rumors, called the allegations "absurdly false" and "extremely defamatory."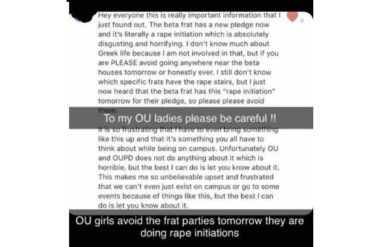 Sam Atkinson, the campus chapter president, released a statement with Zach Allen, the president of the Oklahoma state chapter.
The pair said:
In late August, certain inflammatory rumors concerning our fraternity were circulated in social media and reported by The OU Daily. We stated then, and we restate today, that those rumors were irresponsible, obviously and absurdly false, and extremely defamatory. With our encouragement and cooperation, the University and OU Police Department investigated the allegations and found no evidence whatsoever to support them or any wrongdoing by our fraternity. In fact there is no evidence of any link at all between the allegations and our fraternity or its members
The pair continued the criticism of the perpetrators of the rumors, criticizing the story for being "irresponsibly asserted in social media by someone with absolutely no factual foundation."
"It's a lesson about how social media can be misused and how the truth can get lost among rumor, innuendo and herd mentality," the two fraternity leaders said.
MORE: Find out what student groups have been targets of cancel attempts
IMAGES: Sydney Price/Twitter; OU Daily
Like The College Fix on Facebook / Follow us on Twitter