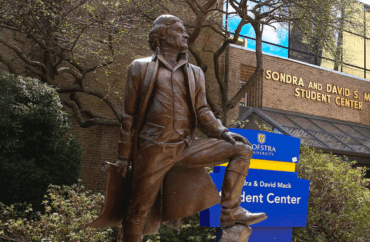 "What kind of message does it send to current & prospective students of color?"
Hofstra University has finally buckled to student demands calling for the removal of a statue of Thomas Jefferson … sort of.
According to the island now, Hofstra President Stuart Rabinowitz announced on June 23 the statue would be moved from its current location at the Sondra and David S. Mack Student Center to behind the school's Emily Lowe Museum.
Rabinowitz said the decision was made "with the help of the university's Committee on Representation in Public Spaces."
"Institutions, like people, evolve, and come to new understandings based on the work and words of activists and leaders," Rabinowitz wrote. "It has become clear to all of us that the pain of our Black students and citizens in regards to the symbols and representation of our national history is substantial."
Two years ago Rabinowitz had struck a different tone, stating in reaction to student demands he thought it was "a bit of a stretch to say Black Lives Matter applies to the Jefferson statue."
The statue repeatedly has been a target of vandalism, including the word "DECOLONIZE" and Black Lives Matter slogans.
For student activists, the decision to move Jefferson doesn't go far enough. A Change.org petition went up the same day as Rabinowitz's announcement calling for the statue to be removed completely.
The petition notes the new location houses the university's Department of Drama & Dance, "two fields of performance that are systematically structured to disadvantage people of color from advancing further or to the level of their white counterparts."
"What kind of message does it send to current & prospective students of color?" the petition asks, given Jefferson "owned close to 600 slaves and raped many enslaved black women to bear his biological children."
Members of the activist group JGG! — Jefferson's Gotta Go! — echoed the sentiment in The Hofstra Chronicle:
"It's not really a victory, because they didn't actually do anything in accordance with our demands," said Rosario Navalta, a history and religion double major and the current head organizer of the JGG! campaign at Hofstra.

While JGG! has always called for the statue's removal, their only compromise was the relocation of the statue to an indoor location, like a museum or an archive, where Black students wouldn't have to interact with it on a daily basis. "The least you could do is get it out of our sight," Navalta said. "Nobody wants to see it. It's caused enough grief. We're done."
The petition currently has a bit over 1,700 signatures out of a requested 2,500.
Meanwhile, JGG! already is working on a new set of demands as Hofstra, according to Navalta, "has never been a place [that fights] for Black students, for marginalized students, for gay students, trans students."
Read the island now and Chronicle articles, and full petition.
MORE: Hofstra anti-Jefferson student: statue source of 'significant' distress
MORE: History sometimes stings. Don't bulldoze it
IMAGE: hofstra.edu
Like The College Fix on Facebook / Follow us on Twitter