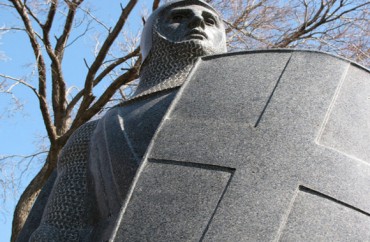 The student paper at the College of the Holy Cross is doing away with its name The Crusader … due to the association with religious-oriented violence.
The decision comes at about the same time that the school's Board of Trustees opted to keep the "Crusader" name.
Last year, an effort was made to effect a name change due to "growing anti-Muslim tensions in our country" and The Crusader (coincidentally) sharing a handle with a Ku Klux Klan-affiliated paper.
In a recent column, the current editors concede the connection to the "poorly-circulated" KKK paper is "nominal," and instead invoke the Holy Cross paper that came before:
"On January 7, 1955 our predecessors at The Tomahawk had the following to say: 'The Tomahawk has become an accepted tradition at Holy Cross and should not be seriously changed, of course, without good reason. There are good reasons.'"
And the reason was that Native American imagery had become a product of a "bygone era," and keeping the "Tomahawk" name would have been "an exercise in blind traditionalism."
More:
As the editors of The Tomahawk understood, a fundamental break with tradition requires an exceptionally strong rationale, and we believe that such cause exists. Prompted by the faculty letter, the editorial board studied the history of the Crusades and the use of the term 'crusader' on the Holy Cross campus. Ultimately, the nominal association with a poorly-circulated KKK newspaper (which took its name far later than this paper) did not figure at all in the final decision. What did matter to us was the ultimate legacy of the crusaders themselves. No matter how long ago the Crusades took place, this paper does not wish to be associated with the massacres (i.e. burning synagogues with innocent men, women, and children inside) and conquest that took place therein. Surely, the word 'crusade' has come to mean 'an energetic campaign' in common parlance, but can a school whose mascot wields a sword and shield really lay claim to this interpretation? An editorial in this very paper in October of 1925 explained the Holy Cross Crusader mascot as one associated with "the zeal and ardor of knightly valor, imbuing her sons with the fervor of legendary memoirs." Those 'legendary memoirs' cut to the very heart of the types of religious violence that this paper sees no need to associate itself with.
The editors go on to say the paper's name change — to The Spire — is "certainly not about appeasing faculty or creating 'safe spaces,'" it's about "providing a platform for all students."
Because, you see, if it remained The Crusader, somehow that platform wouldn't exist for some. Or something.
h/t to Gary Fouse
MORE: Holy Cross's 'values' may require 'Crusader' name change
MORE: College nixes 'Crusaders' mascot, says it's too controversial
IMAGE: swinfinfan/Flickr
Like The College Fix on Facebook / Follow us on Twitter