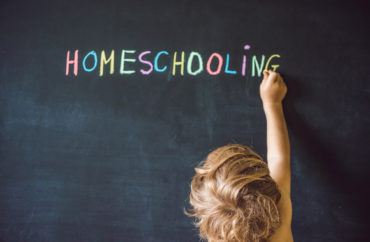 'She's saying that we're somehow abnormal'
Homeschoolers across the country are slamming a Harvard professor who has expressed a frank desire to effectively end homeschooling in the United States, claiming her research is faulty and her motivations are biased.
Elizabeth Bartholet, the Morris Wasserstein Public Interest Professor of Law at Harvard, was recently the subject of a profile in Harvard Magazine that highlighted a recent study she published in the Arizona Law Review. In that article, Bartholet argues that homeschoolers suffer academic and psychological harm by being taught at home, and that homeschoolers are also prime targets for parental abuse.
In her interview with Harvard Magazine Bartholet lamented the "essentially unregulated regime in the area of homeschooling" in this country. In her academic paper she argues for a "general presumption against homeschooling" in the United States, in which governments would "deny the right to homeschool, subject to carefully delineated exceptions for situations in which homeschooling is needed and appropriate."
"The issue is, do we think that parents should have 24/7, essentially authoritarian control over their children from ages zero to 18? I think that's dangerous," she told Harvard Magazine.
"I think it's always dangerous to put powerful people in charge of the powerless, and to give the powerful ones total authority," she added, referring to parents' authority over their own children.
To underscore the point, the illustration accompanying the Harvard Magazine article depicts a group of smiling children playing outside a house, stylized as a pile of books, one of which is the Bible. Inside the house a child can be seen, through prison bars, watching the rest of the children play. This child represents the homeschooler.
'Anything she calls normal is most likely wrong'
Several homeschoolers spoke to The College Fix in response to Bartholet's arguments. All were highly critical.
Enoch Fry, a 15-year-old homeschooled student, dismissed Bartholet's claims outright.
"First of all, I love how Elizabeth Bartholet starts her article: 'Homeschooling is a realm of near-absolute parental power.' So?" he said.
"Next, she says: 'Homeschooling parents can, under current law, deny their children any meaningful education and subject them to abuse and neglect free from the scrutiny that helps protect children in regular schools.' Wait, 'regular schools?' So she's saying that we're somehow abnormal," Fry continued.
Noting that Bartholet refers critically to "the current homeschooling regime," Fry argued that that system "has created more free thinkers and in most cases smarter students." He cited data that indicated homeschoolers tend to have higher GPAs and graduation rates, and more college credits their freshman year, than public school students.
"Now I'm not using these facts to put down public schoolers, I know many smart public schoolers, But I can use them to dismantle the myth that parents are taking away our right to an education. If we're typically smarter, she can't be right," Fry said.
Addressing Bartholet's claims of abused homeschooler, Fry cited a 2018 study by the National Home Education Research Institute that concluded: "The limited evidence available shows that homeschooled children are abused at a lower rate than are those in the general public, and no evidence shows that the home educated are at any higher risk of abuse."
'Directly violates our Constitutional rites'
Jeydan and Parker Gosman, a 14-year-old homeschooler and 20-year-old homeschool graduate, respectively, also leveled heavy criticism against Bartholet's claims. "She should have titled her paper, 'No One Should Homeschool'," they wrote to The Fix.
"It's poorly-cited, anecdotal, vague, and the plan she proposes directly violates our Constitutional rights. She asserts that 'most parents' aren't qualified to teach their kids. She's worried homeschooled kids will view the world as their parents see it, instead of how the State 'knows' they should see it."
"Even parents who meet academic standards – whatever that means – likely won't meet 'democratic standards.' Like, they won't teach their kids to be good citizens. She refers to America as a democracy over and over again, which baffles me. She's a Harvard Law Professor! We're a constitutional republic, not a democracy," they added.
The brothers said Bartholet, in her paper "sugar-coats her agenda by saying the State will have power to give 'exceptions' to people who qualify for homeschooling." They argued that her criteria for allowing homeschool is notably strict and includes degree requirements, state approval of curriculum, mandatory home investigations, state testing, and required courses at local public schools.
Luke Kempe, another homeschooled student, confessed that he was "genuinely curious if the author has ever interacted with a homeschooled student."
"On average, homeschooled students beat their public school peers on every single test on every single subject, and get higher ACT/SAT scores. The main problem with the article is that the author seems to think that kids should be wards of the state instead of having their parents take charge," Kempe said.
"That being said, I do acknowledge that there are issues with parents who pretend to homeschool students, such as groups in southern Utah, and [I] would agree with basic state by state regulations that simply ensure that the homeschooling is legitimate."
"Regulating this negative externality would probably involve some oversight, without being overbearing and destroying basic educational autonomy," he added.
In an interview with The College Fix, Darren Jones, a staff attorney for the Home School Legal Defense Association, extolled the advantages of homeschooling.
"[I]t works. Homeschooling worked for me. When you're in a public school, everyone has to do the same thing. Whereas when I was being homeschooled, when you needed to take a day off and take a field trip, you're able to do that. You're able to do things more flexibly. There's much more flexibility in curriculum as well," he said.
The organization says its mission holds that "every child is unique," that "children should learn in ways that meet their needs," and that "homeschooling gives you the freedom to personalize their education so they can realize their potential."
Jones stated that homeschooling is "better for the country because it allows more families to choose what is good for their kids, which is a key benefit of homeschooling. It allows families to choose what is best for each individual child."
Mari Magalei, a 15-year-old homeschooler, echoed that sentiment, claiming that Bartholet was only examining "the worst possible scenario of homeschooling."
"[Bartholet] is right in saying that there's dangerous waters in homeschooling. But they are in public schooling as well. It's just a risk that people have to be and are willing to take. It's just another way of gaining an education. It's better in some ways, and I'm sure it's worse, and it all depends on your point of view."
MORE: Harvard prof says too much homeschooling freedom is 'dangerous'
MORE: Homeschooled students face bias in college admissions
IMAGE: Elizaveta Galitckaia / Shutterstock.com
Like The College Fix on Facebook / Follow us on Twitter