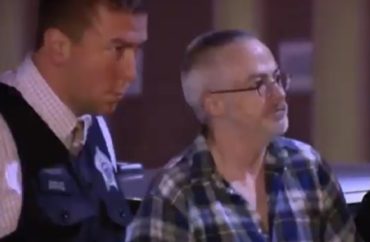 The trial began on Monday for Wyndham Lathem, accused of murdering his boyfriend in 2017
A former medical school professor at Northwestern University is on trial starting this week for allegedly murdering his boyfriend.
Wyndham Lathem (right, in the checkered shirt) is accused of teaming up with an Oxford University employee named Andrew Warren to fatally stab hairstylist Trenton Cornell-Duranleau nearly 70 times in 2017.  Cornell-Duranleau and Lathem were in a homosexual relationship with each other.
Warren and Lathem met in chat room and discussed their homosexual fantasies. Warren has pleaded guilty to murder and has been sentenced to prison for 45 years.
The pair, allegedly, planned to kill each other also.
"Prosecutors said Warren traveled to Chicago from the United Kingdom specifically to carry out the plot, which was meant to end with him and Lathem killing each other," ABC 7 reported. "Instead, the two men led police on a cross-country manhunt that culminated with both turning themselves in to authorities in California eight days after the stabbing. Warren pled guilty to the crime in 2019 and is serving a 45-year sentence in exchange for his testimony against Lathem."
"Warren filmed the killing and admitted to covering Cornell-Duranleau's mouth and holding him down as Lathem stabbed him, according to court records," the Chicago Sun-Times reported. "Authorities said Warren admitted he hit Cornell-Duranleau in the head with a lamp then stabbed him in the chest. Warren and Lathem fled the city in a rented car after the killing, Chicago police said."
The Chicago newspaper did not link to any specific court records in its reporting.
Asked for prison release to fight COVID-19
Lathem had tried to get out of prison while he awaited trial in order, he said, to help combat COVID-19. The microbiologist is considered an expert on the bubonic plague.
The Centers for Disease Control and Prevention had designated him as a "select agent." This designation "allowed him lab access to some of the world's deadliest pathogens," the Sun-Times previously reported.
Lathem's failed appeal to get out of prison to fight COVID won the endorsement of a University of North Carolina professor, the Sun-Times reported.
"With his background and experience, Dr. Lathem is well-suited to advise and participate in studies that are aimed at understanding SARS-CoV-2, the coronavirus responsible for the COVID-19 pandemic," UNC Microbiology and Immunology Chair William Goldman wrote in support of the motion to release Lathem. "It would make sense to take advantage of as many experts as possible during this worldwide crisis that is rapidly expanding in scope," Goldman wrote in April 2020.
MORE: Suspect confesses to murdering teenage Grand Canyon student
IMAGE: CBS Chicago/YouTube
Like The College Fix on Facebook / Follow us on Twitter