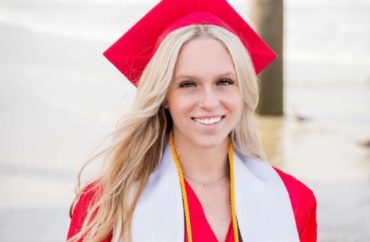 UPDATED
One victim would have been a sophomore in college this fall
The suspect arrested in the murder of an Arizona college student in a movie theatre has reportedly confessed.
"Joseph Jimenez, 20, is in jail on suspicion of murder and robbery in the shooting that killed Rylee Goodrich, 18, and Anthony Barajas, 19 on July 26," CBS Los Angeles reported.
"The confession is reported to have come during a jailhouse interview with media when Jimenez is reported to have said voices in his head tormented him for months," the CBS affiliate said.
Goodrich (right) should have started her sophomore year as a marketing major at Grand Canyon University. Barajas is a social media influencer who had a substantial following on TikTok.
Goodrich and Barajas were reportedly two of only six people who attended a movie called "The Forever Purge" at a movie theater in Corona, California. The "Purge" series is about an annual day of lawlessness.
Three of Jimenez' friends allegedly attended the movie but left over fears of their friend being armed, Fox News reported. That left Jimenez, Goodrich and Barajas.
Jimenez allegedly shot and killed them, but the bodies were only found after the movie, during a routine cleaning of the movie theatre.
Police won't share information on if Jimenez is here legally
Law enforcement has released few details about Jimenez, including his immigration status.
"We don't ask about people's immigration status," Tobias Kouroubacalis, a spokesperson with the Corona Police Department, told The College Fix via email on August 2.
He did not respond to an August 5 email that asked for confirmation on Jimenez' confession.
"We do not know his immigration status," the Riverside County prosecutor's office said in an unsigned August 5 email. "We are a blind charging office, meaning that when initiating criminal charges we do not consider gender, race, ethnicity, immigration status or any other such factor unless we are required to do so to prove an element of the offense we are reviewing for charging."
Immigration and Customs Enforcement said they have not had contact with him, according to Public Affairs Officer Alethea Smock.
Police arrested Jimenez in El Cerrito, California at his home.
MORE: Arrest warrant details released in Yale grad student murder
Editor's note: The article has been updated with information on where Jimenez is from.
IMAGE: Rylee Goodrich/Instagram
Like The College Fix on Facebook / Follow us on Twitter