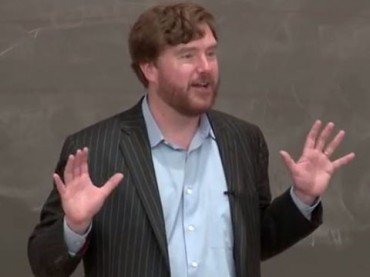 As Princeton's new recommendations on "socioeconomic diversity" demonstrate, colleges and universities are looking at how they can better serve students from poorer and blue-collar backgrounds.
But the author of the new book Freedom From Speech worries that these nontraditional students will be told to shut up once they get on campus.
As the son of a British mother and Russian father whose family qualified for public assistance when he was a child, Greg Lukianoff was amazed at the strength of political correctness when he arrived at Stanford as an undergrad.
It reminded him of how the British upper classes told the lower classes how they should behave and talk, Lukianoff told The College Fix. In a human rights class, he learned what words are off-limits – a large section of the vocabulary used by inner-city high school students and blue-collar coworkers from his youth.
"'Do you guys even like poor people?'" Lukianoff recalls telling his classmates.
Problem: 'Convincing Students to Sue' 
As the group he leads, the Foundation for Individual Rights in Education (FIRE), embarks on a new chapter in its 15-year history – more litigation relative to education in its quest to make campuses respect speech and due process – Lukianoff told The College Fix how his approach has changed over the years, and where new threats are emerging.
After spending his first few years on the road "constantly" to visit all of FIRE's donors, Lukianoff has cut back his travel schedule to 30 to 40 percent of his time. Foundations contribute a third of its budget at most, and the "vast majority" of its individual donors aren't big givers, he said: "You're going to take on cases that anger people sometimes."
Though the percentage of colleges that get FIRE's "red light" rating for bad speech policies has steadily fallen from 75 percent, it's still at 58 percent now, Lukianoff said. Those who get impatient with FIRE's seemingly slow progress should remember that he was the only attorney at FIRE for several years, he said.
Under its "ambitious" litigation push, which started at Ohio University, Iowa State, Citrus College and Chicago State, FIRE is increasing its scale more than changing its mission, Lukianoff said: "We still do everything else we did before." The involvement of prominent First Amendment lawyer Bob Corn-Revere shows that FIRE is going "deep and professional."
The biggest hurdle may be "convincing students to sue their colleges," because students fear they will ruin their academic careers, though "a university would have to be crazy to retaliate," Lukianoff said. He noted that the plaintiff in one of the first successful speech-code lawsuits, Corry v. Stanford, became a lauded figure and is now a high-profile lawyer.
Faculty members are even "more hesitant to fight back," Lukianoff said. He would love to have a full-time staffer to reach out to faculty, perhaps a retired professor who can speak to academics on their level. Many of the group's strongest supporters are professors, he said, noting Harvard's Steven Pinker is the keynote speaker at FIRE's 15th anniversary gala next month.
Lukianoff said his long-term goal is to make a "big expose" film about the history of campus censorship along the lines of Evan Maloney's 2007 documentary Indoctrinate U – or perhaps a children's book about free expression.
When Students You Helped Want You to Silence Others
The "care ethic" that defines campus hostility to speech is "very seductive" because it promises its supporters an elevated morality, Lukianoff said. Old-school First Amendment advocates seem to think that their "1960s incantation of the importance of free speech" is enough to convince people why free speech is foundational to society, he said.
A better educational effort would start with universities hosting "Oxford-style debates" during orientation, where students would be required to argue the opposite position of what they believe, Lukianoff said.
Pop culture is already imbuing audiences with "profound" messages about speech and tolerance buried in crass but popular productions such as South Park and The Book of Mormon, Lukianoff said. Comedians such as Louis C.K. and the late Joan Rivers understand that the care ethic endangers "the great institution of calling BS" on "societal nonsense" that comedy offers, he said.
But just in past year it seems students themselves are calling for censorship, "and that's really disappointing," Lukianoff said.
It goes beyond "disinvitation season," where activists try to chase off commencement speakers. Lukianoff noted the attempted silencing of human rights activist Ayaan Hirsi Ali, a critic of extreme Islam, by both Muslim and secular campus groups prior to her recent Yale speech: "Students aren't really, unfortunately, getting this message."
One group of Muslim students at the University of California-Irvine, whom FIRE had previously helped, actually asked for its help later in silencing a speaker they didn't like, Israel's ambassador to the U.S., Lukianoff said. FIRE had to tell those students "'no, you're on the wrong side of freedom of speech.'"
Lukianoff said he's more accustomed to battling "mid-level to upper-level administrators who are too big for their britches." He cited University of California-Berkeley Chancellor Nicholas Dirks, whose "poorly written" email to the campus community about free speech – on the 50th anniversary of the Free Speech Movement – showed that "power wants to define what civility is."
Greg Piper is an assistant editor at The College Fix. (@GregPiper)
Like The College Fix on Facebook / Follow us on Twitter
IMAGES: YouTube screenshot, Foundation for Individual Rights in Education, Penn State News/Flickr