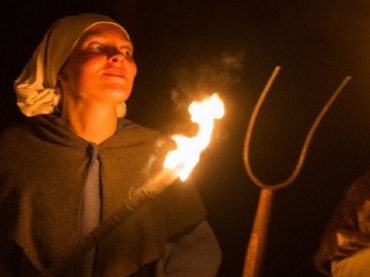 A video that went viral this week shows a group of students at Portland State University who stormed a scholarly panel talk and continuously chanted "we will not be silenced in the face of your violence" among other profanity-laced insults until the event was shut down.
The video may offer a shocking display of campus mob rule to those who are not accustomed to what's going on at colleges these days, but as someone who has personally been on the receiving end of such vitriolic attacks, I can tell you it's far more normal than you might think.
Many have heard of the feminist studies professor at UC Santa Barbara who stormed off with a teenage prolifer's sign, then engaged in an altercation with her when she went to retrieve her property, a scuffle that has left the educator facing criminal battery charges.
The professor, Mireille Miller-Young has since pleaded not guilty. She's got a lot of nerve.
One part of the story that is not as widely known is what happened prior to the professor's theft and assault. I can tell you about it. I was there.
I was among 13 pro-life students who exercised our right to free speech on that sunny afternoon in March. I was actually the first one to speak with Professor Young.
When the incident began I was using the sign in the "free-speech zone" to start conversations with people passing by. I began a calm, rational conversation with Professor Young, asking her what her thoughts were on our position and our sign.
She immediately raised her voice and spoke condescendingly, accusing me of using "fear tactics" to coerce women.
"I have a PhD, three degrees more than you do!" she yelled, smiling. At one point, she threw the pamphlet I had handed her at me.
"Do you even go here?" she asked me. "There's no way you have the right to be here."
I told Miller-Young that she could ask the administration whether we had the right to promote our cause on campus. She refused, saying she knew we had no right to remain.
After about 10 minutes of Miller-Young talking over me and yelling obscenities, a group of about 15 students gathered around us and watched the spectacle, as the professor continued her rant.
Before Miller-Young had begun, some of the students had been having reasonable discussions with us, but now they joined the professor and, following her example, mocked us and our work.
Professor Young started waving her arms, and walked back and forth between us and the students, insisting to them that we were liars.
Each time I tried to speak to Miller-Young, she would interrupt to yell at me. I also talked to at least three of the students who had gathered around. Because the situation was already hostile, however, and they threw insults me.
Then the professor turned to the students and said, "What are we going to do about this? Should we tear down their sign?" She started a chant with most of the students: "Tear down the sign!" Three or four from my group approached individual people in an attempt to prevent the mob that was forming.
When Professor Young saw this, she shouted: "No! They're just trying to separate us. We have to stick together!"
She muscled herself between at least two of us who had started one-on-one conversations and tried to start the chant again, but this time it didn't take hold.
At this point Professor Young walked toward me, and I backed up, thinking she might hit someone. Instead, she yanked the sign from my friend, and asked two students to join her.
When she turned back and saw our other sign, Professor Young called out: "Oh look! They have another one!" One of the students tagging along with her said, "You'd better guard your other sign, 'cause we'll take that too."
Miller-Young also addressed people eating lunch in the plaza: "We are taking their sign because they have no right to be here. We're taking care of this." Turning to us she shouted, "I may be a thief, but you're a terrorist."
Two of my peers followed her into the building, and I remained outside, shaken and upset.
Professor Young could have calmly discussed the issue or even ignored us, but she chose to be personally insulting and both verbally and physically abusive with a peaceful group of younger women.
The confrontation at UCSB that day, as well as the one that recently took place at Portland State, has brought under the public gaze the disturbing and dangerous situation that every believer in freedom of speech now faces on campuses.
Mairead McArdle is a student at St. Thomas Aquinas College.
Like The College Fix on Facebook / Follow us on Twitter