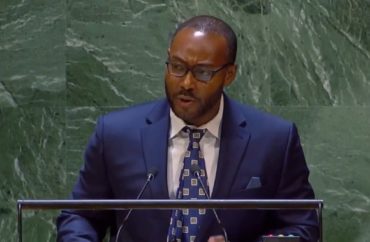 Blames 'white scholars' for inhibiting progress on this issue
The United Nations should set up a reparations tribunal and order the United States to pay out up to $5 million in reparations to black citizens, a Howard University professor said recently.
Professor Justin Hansford, a law professor and proponent of critical race theory, made the comments at the UN Permanent Forum on People of African Descent, according to the Daily Mail. Hansford is a member of the forum, first created in 2021 and he spoke to the news outlet at the UN.
The Daily Mail reported:
Justin Hansford, a professor at Howard University School of Law, led the charge for $5 million payouts to black Americans at the UN this week, flanked by colleagues from the University of Pittsburgh and Columbia University.

The long-shot effort underscores how reparation payouts are unpopular among white American taxpayers and have little chance of becoming federal law, leaving advocates scrambling for a workaround.
Hansford (pictured) said "white" policymakers and proponents had not gotten the job done.
He said:
But so far we have left it to the scholars of the past, the lawyers of the past, the white scholars, white lawyers, to determine the bounds of our legal imagination, to determine the narrow structures that we will use to determine what justice looks like for our own people.

So I come to you today with a novel proposal, that we begin to think our own thoughts, propose our own vision of justice, and implement that justice, as part of the Permanent Forum on People of African Descent.
Hansford said he used his law students to research reparations, but he mistakenly claimed that "Evanston, Ohio" created a program. Evanston is in Illinois.
He also called for "African spirituality" to be a part of discussions about reparations.
The College Fix has previously reported on California's reparations panel, which includes several CRT proponents, who have proposed at least $569 billion in payments. The task force has until July 1 to deliver a final price tag.
MORE: Santa Barbara schools offer 'healing spaces' for black students
IMAGE: United Nations
Like The College Fix on Facebook / Follow us on Twitter