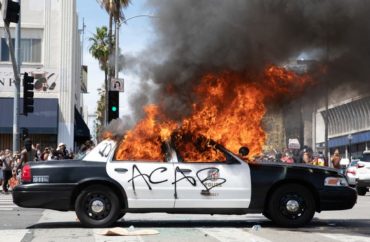 Hundreds of members of the Rutgers University-Camden community have signed a document that denounces a "return to peace," suggesting that's "part of the problem."
"We affirm that a 'return to peace' and calls for 'law and order' are part of the problem and not the solution," states the document, a "Statement of Justice for George Floyd."
"The conditions of 'peace' and 'law and order' are what enabled the murder of George Floyd in broad daylight and in front of several protesting witnesses; they prevented those witnesses from interrupting his execution," it adds.
The statement endorses "a more radical intervention" toward the societal issues that Floyd's death raised.
As of early July, the statement is signed by more than 300 faculty members, staff, graduate workers and students, including the university's outgoing Chancellor, Phoebe Haddon. It was disseminated via email to all students, faculty and staff of Rutgers-Camden.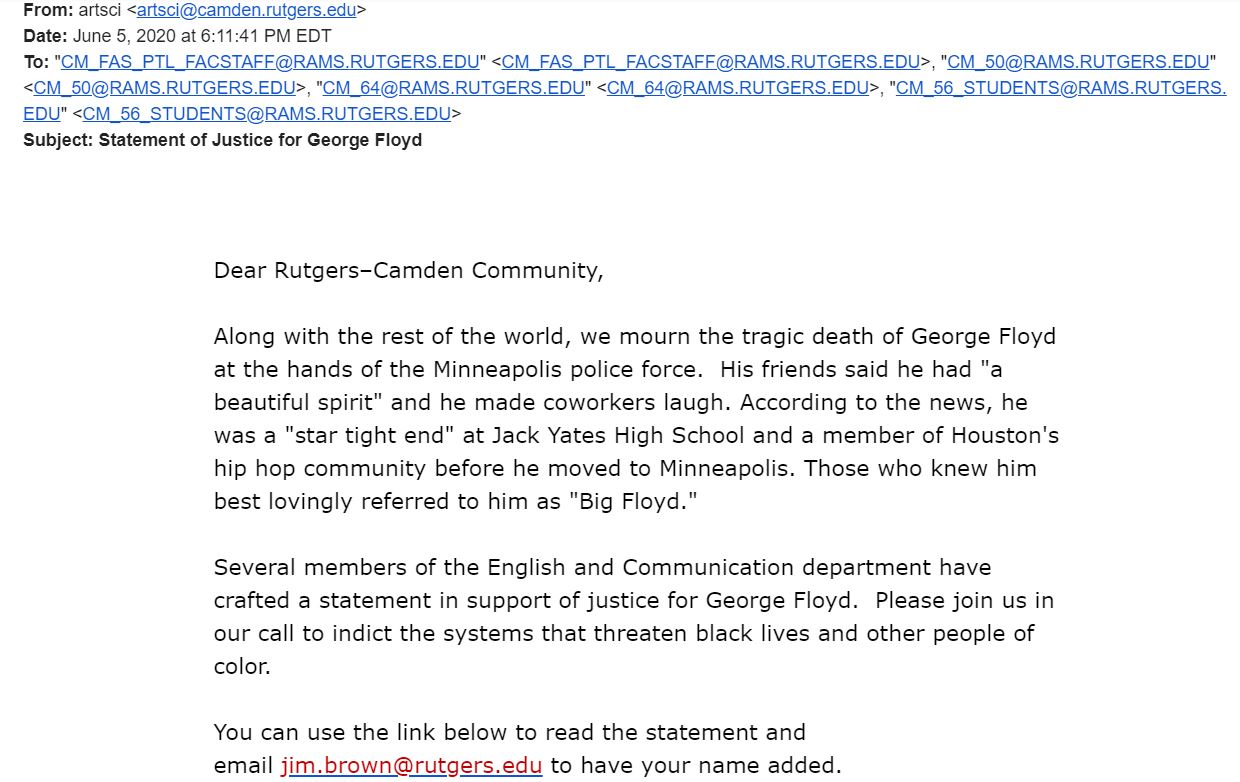 It was authored by Keith Green, professor of English and director of the university's Africana Studies program.
The statement makes a number of systematic complaints against white supremacy, racism, and American society in general.
It contends that "white supremacy and anti-black racism, which have been foundational to the modern world and the U.S. in particular," were "primary movers in the drama that produced the death of George Floyd. His murder was neither accidental nor exceptional; it was an expected outcome of a world that thrives on and is organized around the transparency, privilege, and forgetfulness of whiteness."
It goes on to state that "the police (and the system of law enforcement that makes it legible and legitimate) are not fit, as currently imagined and constructed, to protect the rights of poor, dispossessed, and marginalized people in the United States."
Finally, the statement affirms "that the anti-black and white supremacist logic that allowed the killing of George Floyd is widespread, ordinary, and flexible," and "that all people, including and perhaps especially white people, have a role to play in the dismantling of white supremacy and the systems of containment, denigration, and death that it demands."
The College Fix reached out to Professor Green, as well as James Brown, professor of English and director of the university's Digital Studies Center and the statement's signature collector, but neither responded to a request for comment.
Chancellor Haddon delivered a statement of her own.
"Standing up against racism is for each and every one of us to do. It is not a 'Black issue.' It is a human issue that is the responsibility of all of us, particularly those who have not directly suffered the debilitating effects of racism," she wrote.
"We can do so by voting, engaging in peaceful protest, and organizing our communities, among many other ways – including refusing to accept anything less than equality for all. As an academic community, it is incumbent for us to seek to understand and address the root causes of our prejudices," she added.
MORE: Black university dean denounces BLM: 'dehumanizes' black people
IMAGE: Hayk Shalunts / Shutterstock
Like The College Fix on Facebook / Follow us on Twitter