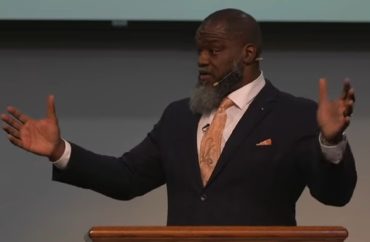 Warns against 'ethnic gnosticism'
Vice President Mike Pence has some company in his decision to not use the phrase "Black Lives Matter" because of its pernicious association.
A black university leader said the phrase is "designed to use black people" to further an agenda that foments racial strife and actually endangers black lives.
Voddie Baucham, dean of theology at African Christian University in Zambia, told Glenn Beck on his radio program that the Black Lives Matter organization "dehumanizes black people" and "makes them pawns in a game that has nothing whatsoever to do with black people and their dignity."
He said it's dangerous to conflate "this movement" with the issues that face black people. Don't just mouth the phrase uncritically, but actually study the organization and its beliefs, Baucham said:
This movement is dangerous. This movement is vicious. … And so if I'm really concerned about issues in the black community — and I am — then I have to refuse, and I have to repudiate that organization. Because they stand against that for which I am advocating.
Christian Headlines noted that Baucham also said the BLM movement tries to usurp Christianity by promising salvation without the gospel of Jesus Christ: "And unfortunately, there are many Christians, who are sounding like they're satisfied with this."
The Blaze pointed to a sermon Baucham gave last year on "Ethnic Gnosticism," a term he coined to describe the unbiblical belief that one's ethnicity determines whether that person "is able to know when something or someone is racist."
Watch the interview and read the article.
h/t Disrn
MORE: University cancels play accused of criticizing BLM
MORE: University bans filming of BLM co-founder
MORE: Law prof censured by dean after criticizing BLM movement
MORE: Black leaders at theology schools think BLM infiltrated by white supremacists
IMAGE: Founders Ministries/YouTube
Like The College Fix on Facebook / Follow us on Twitter