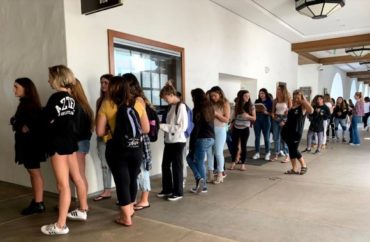 Event at San Diego State aimed to 'destigmatize masturbation'
At a "Free Vibrator Day" event hosted at San Diego State University on Tuesday hundreds of the battery-powered sex toys were distributed to students who had lined up for the complimentary devices.
The event was held in the Pride Suite of SDSU's Aztec Student Union, with a line of students — mostly females — flanking the side of the building and a student organizer calling out "destigmatize masturbation" to passersby.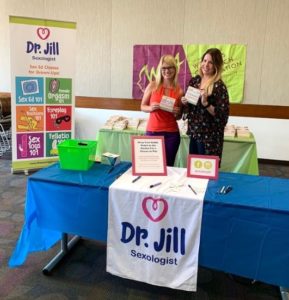 Jill McDevitt, also known as "Dr. Jill," is a San Diego-based sexuality educator with a PhD in human sexuality who coordinated the event with the help of an adult novelty retailer called CalExotics, which supplied the approximately 500 vibrators given away to students. McDevitt also partnered with a student feminist club at SDSU called the Womyn's Outreach Association to put on the giveaway.
A flier advertising the event states its intent is to free women from the stigma of masturbation.
"There is a major orgasm gap between the genders," McDevitt told The College Fix. "There's a whole emphasis on penile vaginal intercourse being normal, and not only is that really heteronormative, but it also leaves out how most women experience orgasms, most women experience orgasms with clitoral stimulation, and this vibrator will do that."
McDevitt said this is an annual event, but it made sense to host it at a university this year, noting she often works with college students.
"I also want to provide people's first vibrator because a lot of people are going to be getting their first ever vibrator here today, and it becomes a life long relationship with their sexuality and me being a person who can be there for them through that journey, so it just makes sense to work with college students," she said.
The flier touting the event added: "Dr. Jill, CalExotics and WOA refuse to apologize for the fact that masturbation is normal, healthy and fun. Masturbation stigma is even worse for women, and vibrators are a tool of sexual liberation from that stigma."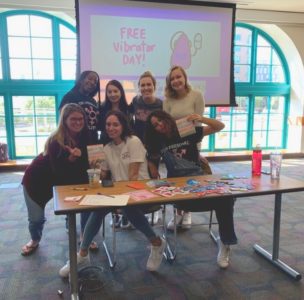 In addition to the vibrator giveaway, students were given condoms and opportunities to host sex-ed classes. The two-hour event took place from 10 a.m. to noon. As students waited in line, volunteers asked students history-themed questions about vibrators.
Inside the suite where the vibrators were located, there were tables set up for McDevitt and the Womyn's Outreach Association, complete with the vibrators, condoms, fliers, and even a raffle where students could have a chance to win a free in-home sex education class of their choice. There was a large stand up sign listing the types they could choose from by McDevitt (Sex Ed 101, Female Orgasm 101, Sex Positions 101, Foreplay 101, Sex Toys 101, and Fellatio 101).
Outside the suite, a student held up a sign that read, "Free! Vibrator." She called out "it's amazing for everyone," "everyone does it, we know it's not a secret," and "might as well make it better." She was later asked by someone working for the university to stop.
MORE: Harvard 'Sex Week' event touts sex during menstruation
Like The College Fix on Facebook / Follow us on Twitter