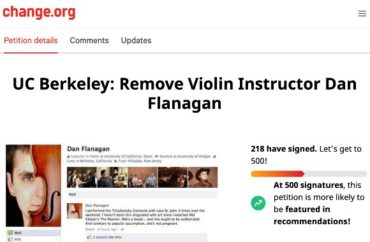 The post allegedly called a fellow musician 'a beast' and stated that 'she ought to be euthanized'
The University of California Berkeley, will take no action against an instructor for a 2012 Facebook post, despite a petition to have him removed from his position.
"The campus administration has no comment and is taking no action," spokesperson Janet Gilmore told The College Fix, in response to a petition that attempted to get Dan Flanagan fired for a 2012 comment about a violinist.
More than 200 people signed a petition started by a Berkeley graduate to remove Dan Flanagan, a violinist and music instructor, for a Facebook post he allegedly made in 2012 regarding Lara St. John, a Canadian violinist.
"When acting in their private capacities, University employees in the United States have the same rights and responsibilities as any other member of the public, including freedom of speech, as guaranteed by our Constitution," Gilmore stated. "At the same time, individual employees, including faculty, do not speak for or represent the values, perspectives or positions of the University."
UC Berkeley alumnus Pranav Sivakumar posted the petition on Change.org in early September addressed to the Department of Music.
St. John, a fellow violinist, posted on Facebook a screenshot of the offending post, also included in the Change.org petition.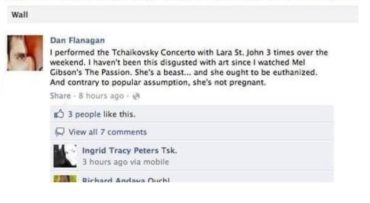 "I performed the Tchaikovsky Concerto with Lara St John 3 times over the weekend. I haven't been this disgusted with art since I watched Mel Gibson's The Passion. She's a beast…and she ought to be euthanized. And contrary to popular assumption, she's not pregnant," the post from Flanagan stated.
St. John commented in her own post:
"It has come to my attention that the violinist Dan Flanagan has been telling colleagues and composers that the words he wrote (which I posted yesterday) suggesting I should be killed and speculating on my reproductive system, were written on some sort of private satirical review page and he took it down immediately," she wrote. " Among many choice words I may have for this man, I will now add liar. I think we can all see for ourselves that this was public on his page for at least 8 hours in May of 2012."
MORE: Check out the Campus Cancel Culture Database
"According to St John, Flanagan subsequently attempted to pass off his comments as being written on a satirical review page, despite it being posted publicly for several hours on his profile," Sivakumar's petition also state.
Sivakumar's petition made two demands. First, it asked that Flanagan "be removed as soon as possible from his position at Berkeley, not only because of his own behavior, but because of how it can affect the young people he teaches – especially female students."
"The Berkeley music department will not be a safe place for anyone as long as he remains there," the petition stated.
Second, the petition demanded that "if this behavior was already known when Flanagan was hired, an internal review must be conducted to determine why that decision was made and ensure that it never happens again."
The petition claimed that St. John previously contacted Flanagan's then-employers at University of California Davis and no action was taken against Flanagan.
The College Fix reached out to both Flanagan and St. John three times within a week but received no response from either.
The petition noted that St. John had contacted Flanagan's then-employer, UC Davis, shortly after he posted the comment, but "no action was taken." Flanagan also continued to play with the California Symphony Orchestra for several years following the post, "despite the orchestra's conductors claiming that he would no longer be hired," according to the petition.
The Fix emailed Sivakumar to inquire about his personal experience with Flanagan as well as what prompted the petition at this specific time, more than a decade after the incident. Sivakumar did not respond to the initial inquiry or the two follow up emails within the past week.
MORE: Professor under fire for 'Blow Up Republicans' Facebook post
IMAGE: Change.org screenshot
Like The College Fix on Facebook / Follow us on Twitter