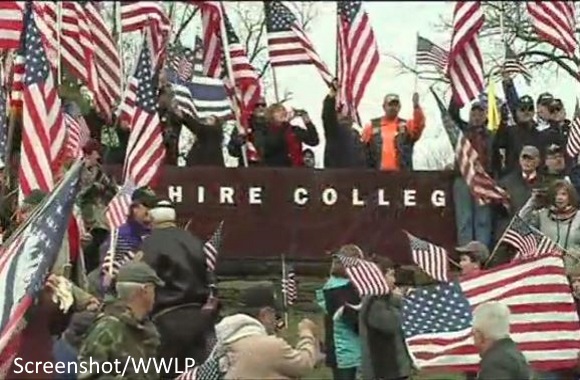 Don't tread on these warriors.
Hundreds of veterans protested at a Massachusetts college that took down the American flag to enable the campus to focus on "addressing racist, misogynistic, Islamophobic, anti-immigrant, anti-Semitic, and anti-LGBTQ rhetoric and behaviors," according to its president.
College President Jonathan Lash has previously told Hampshire College's students in an email that "we will not fly the U.S. flag or any other flags at Hampshire for the time being." The decision came after the school lowered the flag to half-staff after Donald Trump was elected, and then that flag was burned.
On Sunday, veterans and their supporters converged en masse at the Amherst-based school to show their displeasure with Lash's decision. Estimates put the crowd at around 1,000 people.
"Freedom is not free. That's the lesson that hundreds of veterans, their families and friends and other local residents hoped to teach students at Hampshire College Sunday afternoon," WWLP-TV reports.
"They took down my flag, they have a right to that, I'm here to defend their right to do that but I want them to understand how bad that hurts me," veteran Jerry Maguire told the news outlet.
Another veteran, David Soucy, told WWLP: "I was in Iraq 18 months. I got hurt, spent time at Walter Reed. I came home and there's no way I'll let anyone take down the flag, no way. It means a lot to me and my brothers."
Folks from across the state attended the protest, including the mayor of neaby Springfield, Mass., Domenic Sarno, who told the news station that "for the students here, and the president and the board of trustees, the opportunities they have have arisen from what our veterans have sacrificed."
MORE: University bans American flag to combat 'hate-based violence'
Like The College Fix on Facebook / Follow us on Twitter